By titling her album Retro-Moderne, Lily Frost foreshadows the intention to come off both nostalgic and hip, simultaneously. And she decidedly succeeds. The album is filled with a musical adventurousness, which fans of pop music history will fully appreciate.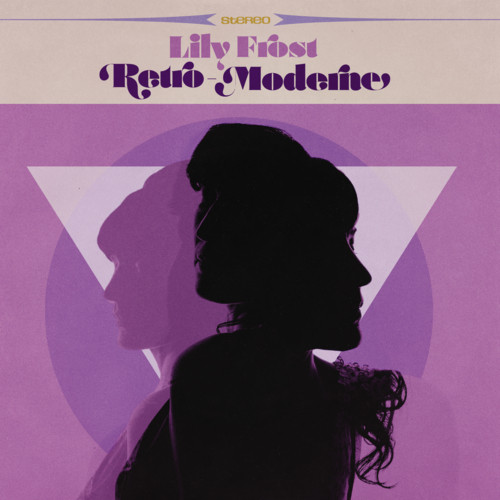 Frost, a successful songwriter, has also found a couple of choice songs to cover. One is "Wild is the Wind," originally recorded by Johnny Mathis for the 1957 film of the same name. Written by Dimitri Tiomkin and Ned Washington, the Mathis recording was nominated for an Academy Award. Frost's take on the song is a stripped-down duet, with just her voice and an expressive electric guitar accompaniment. It's an effective reinvention of the song, as Frost adds her name to an illustrious group of artists that have also recorded the song, which includes Nina Simone and David Bowie. Frost's version of Sonny Bono's "Bang Bang" receives a similar treatment. It's a starkly confrontational to hear Frost's voice interacting with just electric guitar accompaniment.
STREAMING: https://open.spotify.com/track/76Omig129Gjtk7y3rwl5xc
Just when you think this is going to be an album that mostly only sounds like James Bond theme songs, "Cruel World (Nickle and Dime)" comes along. It's driven by a '80s era keyboard arrangement. It's also a bright, sunshine-y pop song that brings to mind Bananarama and The Go-Go's. This track even features a girl group-ish female chorus. Similarly, "Rainbow Glasses" has touches of 80s pop running through it. All these diverse inspirations highlight how Frost appreciates wonderful pop music – from every era. These songs don't sound modern – at least not in the Weeknd and Drake sense of the term – but by dusting off a few sounds we haven't heard for a while, Frost's music is oddly contemporary in contrast to current pop.
One called "Dud" mixes together tinkling piano, twangy electric guitar and a Latin-ish rhythm. Frost sings it like a knowing evaluator of men, passing judgement on a real loser of a guy. After an album's worth of spicy instrumental experimentation, Frost closes the collection with "It's The Love," a sweet and gentle song. On it, Frost comes off as truly sincere. This vocal attitude contrasts with her smart (and sometimes sardonic) tone for much of the rest of the recording. However, like everything else preceding it, "It's The Love" carries with it a cinematic quality. It sounds as though it would befit a children's movie, it's so precious.
https://www.instagram.com/lilyfrostcom/
Frost describes herself as a pop, jazz, singer-songwriter, and calls Toronto, Ontario home. One of her most successful accomplishments was the score and theme song the TV series Being Erica, a Canadian comedy-drama. This album spotlights Frost's ability to pull together a wide variety of stylistic influences and put these together in a way that still retains her individuality. It's the sort of album that surprises and delights, from start to finish. Students of pop music history will enjoy playing 'spot that reference" while listening to these songs. Even if you don't have a nerdy, encyclopedic knowledge of pop music, though, you'll still enjoy this album. Lily Frost obviously had a blast creating these songs, and listeners will simply enjoy going along with her for the ride.
-Dan MacIntosh