Most artists are just getting started at 16 years old; it's rare to find someone at that age who already has an established presence. Yet Que 9 is an anomaly; the teenage rapper carries out major swag in a non-childish, no-frills way. Quarrion Phillips aka Que 9 recorded his fist ever single at the age of 4, now he represents his hometown of Detroit through his brilliant rapping and dancing. In 2016 he started a viral dance trend #QueSplashChallenge at the same time "Facetime" was garnering 15 million views. His newest album, Testimony, takes a more serious approach acting as short chapters to his story filled life.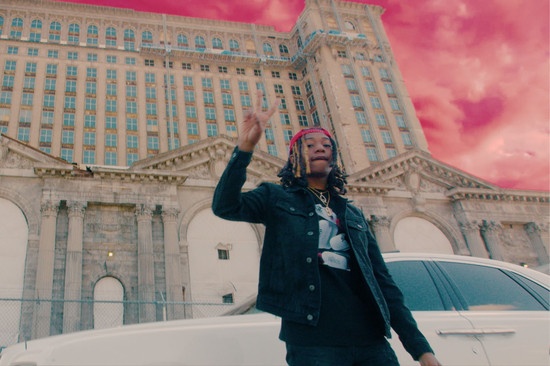 Que 9's grind landed him a record deal with BMB Records, and he has worked with artists like The Crew and Lil Poppy. His road to stardom is phenomenal; to date, he has garnered over 37 million video views on YouTube, performed at Summer Jam, and has been featured in national press outlets such as Complex and XXL. His age is nothing to be skeptical about when his maturity and hustle are arbitrary.
Shooting a music video during quarantine is not the easiest, but Que 9 makes sure to go above and beyond in his clip for "No Such Thing As A Real One". Of course, he follows all the rules: few people are on set, the video is done outdoors, and his Rolls Royce driver stays a respectable distance away. Que makes sure to showcase state pride while rapping in front of the old Michigan Central Station. A cloudy pink visual effect washes over the sky and adds a pop to the empty streets.
Symbolically, Que 9 is alone in the video like he is in his lyrics. The title "No Such Thing As A Real One" basically speaks for itself, the rapper finds it hard to trust people because of how quickly they are to move on. He comes to terms that this is the price of fame but is still on guard due to his past superficial friendships.