Midwest Rhythm Exchange features acoustic instrumentation (standup bass, acoustic guitar, mandolin and fiddle), which combine to create what this quartet terms 'gypsy grass.' Yes, its self-titled album includes plenty of traditional bluegrass elements, yet with a gypsy folk music attitude.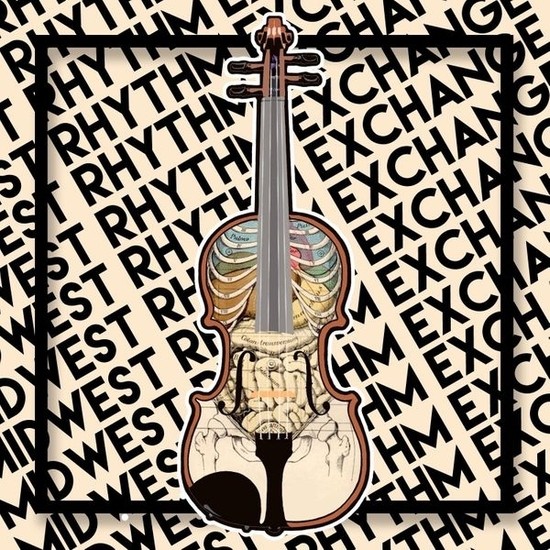 The act's name, featuring the two words "Midwest" and "Rhythm," suggests there exists some sort of uniquely Midwestern rhythm. No such rhythm exists, at least that we know of, but mainly applies to how this group is from Indianapolis, Indiana, which is right in the heart of the Midwest. Many of these eleven songs feature vocals. However, "KFAM" is an instrumental; one that is one of the project's gyps-iest inclusion. It features plenty of speedy mandolin picking over aggressively strummed acoustic guitar. "Safe Harbor," on the other hand, is a sort of sea chanty, which rocks (like a ship out on the sea), before revving up to a more Celtic groove toward track's end. "Whiskey Burns" is a good old fiddle tune, which moves at a hot-stepping pace. One called "Until They Bury Me" is a folkish song, which rolls to something closer to a rock rhythm. Its lyric speaks with the voice of experience. It's not the sort of song a young man can sing (at least not honestly). The instrumentation is sparse, and not at all busy – especially not in a bluegrass kind of way. However, the quartet picks up the pace toward the track's end. It begins with the singer sounding a little resigned to his fate, but later switches to a more assertive tone; one where this man is taking the bull by the horns, so to speak. It ends, however, back to a more easygoing groove.
Album Audio Link – https://midwestrhythmexchange.com/album/1575600/midwest-rhythm-exchange
This group has stated how one of their primary goals is to "bring traditional gypsy swing and other acoustic styles to a modern audience." It sure seems as though, the more music becomes technologically advanced, the more modern-day audiences crave simpler sonic styles. It's a reaction, and a natural reaction at that. Humans are known to swing to extremes. High tech can be a good thing, but an abundance can also be too much of a good thing. The technology may be impressive, but also lack much of the warmth found in more organic sounds. This may be one of the reasons why vinyl records will never completely go away. Sure, digital music has nearly taken over the music world, but there is just something nostalgic and comforting – and tangible – about playing a record on a record player. Similarly, while listening to Midwest Rhythm Exchange, the listener can visualize trained fingers flying up and down the frets. In contrast, with many modern sounds it can be nearly impossible to visualize how a song has been created. Is there any visual way for the typical novice music listener to picture a computer programmed piece of music being created? It all can appear so unnatural, mentally.
This album closes with a sweet, quiet song called "Come Away from the Edge." It sounds like a secular gospel song. It plays out like an invitational song at the end of an evangelical church service. It's also a beautiful way to conclude a high quality and variety-packed set of acoustic songs.
Website – https://www.midwestrhythmexchange.com/home
&
Facebook – https://www.facebook.com/midwestrhythmexchange/
-Dan MacIntosh