Making an engaging website is a challenge. However, the task is achievable when we perform strategically. Everyone in the tech world wants its product and service fantabulous. Website creation comes among the part of creativity. Users prefer sites that have the competence to fulfill their intent. You want visitors to come, explore, analyze, communicate, engage, and certainly invest in your products. A renowned Website Design Company helps more engaging and a user friendly website.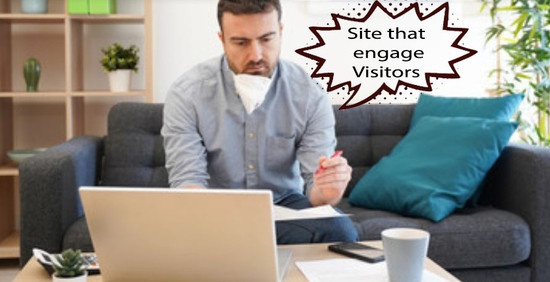 Create a simple layout for your Homepage
When you are going to create an engaging website, then have a simple layout for the index page. There are a variety of website builders such as Weebly or WordPress that provide an extensive series of templates. These pre-developed templates are available in the free and premium versions. Initiate the designing an engaging layout by choosing from layout provided by website builders. You can also get references from the other sites.
Customize the Layout
Several sites on the internet have the same layout for each page. However, continuity is not bad, but it is worthless in terms of engagement. The innovative layout and updating mechanism for every navigation files are impressive. You can differently set your product page and add some unique elements on every page. Visitors also feel that they are getting new things every time. If you consult a credible Website Design Company, then you will get the same suggestion.
Add Social Media Plugins on the website
When you use social media plugins, it helps in making your website more communicative. It allows your visitors to share your website information on social media channels easily. These social media plugins help you in
Increase your brand engagement
Create brand awareness
Produce organic links
Improve the website's user experience
Boost your visibility on social network
Enhance traffic for your website
Integrate social media plugins at the header or footer section of your home page. The sidebar is also an ideal place to add social media plugins in the site
Use readable and clear Fonts
Fonts contribute an essential part in the success of a website. It should be compatible with your brand. If you are not sure which of the fonts is ideal for your website, consult web design company for the same
There are fonts such as Cambria, Times New Roman, Arial, sans-serif, which are clear and easily readable. You also need to check how your font is appearing on different devices. The size of your content will change according to font characteristics.
Easy navigation is key for user engagement
An easy navigation structure makes your website admiring for users. You probably have observed that sites that are engaging are applying pyramid navigational hierarchy. The specialty of this structure is that each page is visible from the navigation menu. A pyramid navigation menu started with common topics and lands into the subcategory. Search engines easily crawl pyramid navigation. It indicates that your page will rapidly index, and you will receive a better ranking search engine. This eventually increases your user engagement.
Integrate Call to action button clearly
You should place every call-to-action (CTA) on the top and separately. People integrate CTAs to get better conversion. If you have not to place CTAs, then it becomes difficult for you to engage users and convert them. Make sure CTAs are clearly visible and searchable for the website's visitors. They also need to be tailored for your consumers at every phase of your sales funnel. Create appealing and actionable content for your CTAs and be transparent on exactly what you expect the consumer to do for every CTA.
The contact details should easy to find
It is necessary to make your contact easily available. You can create a separate page for contact. Moreover, you can put it in the header section to place it on the bottom sitemap.
When website visitor access contacts easy, you have more chances to boost engagement. On the other hand, if they cannot access contact details when they require, they will leave the website. It probably creates a negative impression of your website in their mind. After that, maybe they won't like to return on your website. 
The contact details must be correct, and it should match with other listings over the internet, such as Facebook Page, Google My Business, and all that. The presence of your contact information on all platforms makes you a credible brand.
Select colour smartly
Search the top List of web development companies in Dubai, and you will see, they have chosen the colour of the website wisely. Every colour has its psychic when people see color; they consider them for a particular thing. For example, most of the hotel and restaurant choose red and yellow, because these colours enhance the appetite of people. You also have noticed that most of the social media networks, including Facebook, Twitter, and LinkedIn, use blue colour, because it is soothing and peaceful. Avoid black and grey colour for the website as they are dull and negative. Avoid single colour and always consider two palette colors. 
The website must be mobile-friendly.
Don't take this advice lightly because Google had already launched the Mobilegeddon update in April 2015. This update says that Google will consider mobile-friendliness is a ranking factor. Google will give preference to the site, which is visible well on mobile phone devices. Today there are 80% of people using mobile. As per a recent study, there are 70% of internet users surfing the internet from mobile devices. These users want websites to display properly on mobile.
If your website is not mobile-friendly, then imagine you are losing 70% of internet traffic. Moreover, it will create a bad impression for your website if it doesn't appear correctly on the mobile device. A badly designed mobile website tremendously reduces user engagement. As per recent research, more than 50% of people don't engage with a website that has a poor mobile design.     
Hence, the more accurately you optimize your site for mobile, the more chance you will get mobile traffic for your brand.