Whether it be playing with her family, helping a charity or penning an instant classic, Laura Cheadle proves to be a tenacious force that always pushes forward. With her nose to the grindstone, Cheadle continues to reinvent herself as an artist and has been growing in leaps & bounds. Laura Cheadle is the perfect example of blood, sweat and tears coming to fruition. With her upbeat attitude, Laura Cheadle urges everyone to just stop for a minute and take a deep breath while you "open your mind and heart." And as always, Laura Cheadle hopes that all individuals "stay inspired!"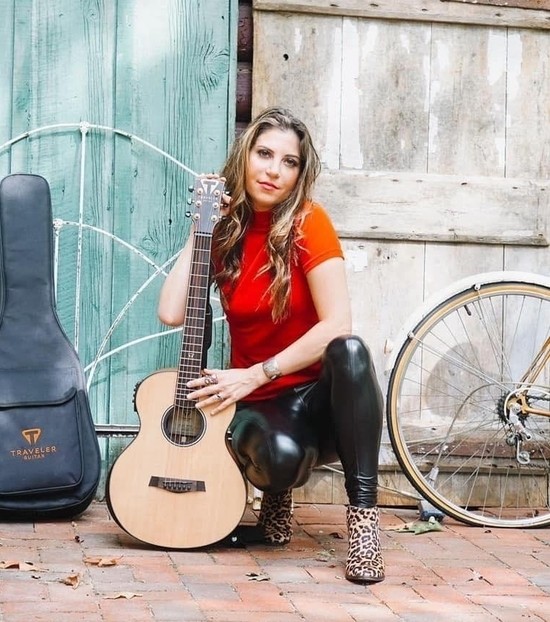 J Rae: The last time we talked was just last year when you were promoting your album 'Chill', (https://skopemag.com/2019/07/04/laura-cheadle-spreading-love-in-chill-mode-for-summer-2019), and now you are working on a new album. This all sounds great and so was hoping you can delve more into how the recording process has been going along with the idea behind the new record?
Laura Cheadle: Ah, yes, it's been quite a whirlwind since we last spoke! I had started recording new material before the quarantine, so thankfully, I have a lot to revisit and review, and really think about where I want the arrangements to go. My process has definitely been affected just because it's usually so collaborative, but I'm enjoying the time alone to explore new possibilities and to play with new ideas, without calendars and deadlines. I have opened up and grown so much creatively and professionally, and have been working in many diverse avenues since our last interview, so a part of me welcomes the chance to pause and reflect. I had started working with several different producers and had been collaborating like crazy, so I have many songs already written this year, which is exciting for me from a new album perspective. My senses are awakened and I have a lot to say for the next album release. There isn't a set date yet, but I am spiritually ready to release some meaningful and powerful songs! I, of course, also still collaborate and record with my father, James Cheadle. He even helped me set up (via Facetime) a home recording studio, so now it's convenient for me to get ideas down while inside. It's super easy to share tracks virtually!
J Rae: Like many artists today, you have joined the ranks by live streaming concerts from home. Just like the old saying, "The Show Must Go On", and so I simply LOVE that you and so many others have continued to bring music into people's lives during these unprecedented times. How do these shows compare to actual live sets and what has been the overall feeling for you and your family band as you play on?
Laura Cheadle: It's a very unique shift that has happened. I have been really trying to help people #stayinspired through this all. For me, this is something new to explore, so I'm approaching it as an adventure. I have always been very much into social media marketing so I've been having fun creating content as a touring artist, now at home. We did a full band livestream right before the world shut down. Since then, I have been live streaming from my music loft, where I have my guitars, a bass, piano and even an electronic drum set. I like to call it "Live From Laura's Loft." I'm certainly learning a lot about the livestreaming process, and recently bought a high quality microphone to enhance the sound. My fans have been totally amazing. They tune in and interact with me via the Facebook or Instagram Live as if they are sitting in the audience watching me! This has been such an emotional time for all of us, and I am so happy to still be able to connect, even without my full band by my side!
J Rae: You wrote a wonderful song titled "Morning", that couldn't be better timing! The song has a meditative quality and that sweet sound of serenity that instantly rushes over you. What was it like personally recording this number; how did it affect you spiritually and emotionally? Also, what have some of the reactions been from fans/listeners?
Laura Cheadle: It's interesting because everyone thinks this is a new song. This was actually from my album, 'Bruised and Soothed' from a few years ago. I love when an older song can be renewed and refreshed! I posted it again recently to help people through the stress connected with COVID-19, and was blown away by all the feedback people sent in about how deeply they were touched by it, and yes, soothed. When I originally wrote this song, it was during a time when I was finding myself through meditation, and learning to be still inside. The song has been very healing for people during this crisis, and I am so happy to be able to contribute in that way. In my lyric it says, "Let the morning creep it. Please your mind and let your soul begin. Don't rust yourself, just trust yourself, and breathe." I think we could all use this time to breathe.
J Rae: We definitely have to talk about how you're now a Brand Ambassador for Traveler Guitar including a big interview at NAMM 2020 in January where you played a live set,
I'm sure the entire Skope Universe is dying to hear more about this awesome deal, so go ahead and hit us with the goods Laura! How did this exciting opportunity come about?
Laura Cheadle: This was a complete manifestation. I say this because it truly was. I had been playing Traveler Guitars long before I became one of their Endorsed Artists. I love the size of the guitars and how beautifully resonant they sound. I always prefer a "baby guitar" so Traveler is a great fit. When I signed on with my manager, Sherry Marcus, she noticed I played Traveler Guitars and thought they would be perfect to photograph with, because of their unique look and style, and she initiated contact and follow-up. In that time period, we made ourselves known to Traveler. Three years later, they contacted us to make me an official Brand Ambassador! I was thrilled because this is a musical product that I am already so passionate about! Fast forward to NAMM 2020… There I was, representing the Traveler brand, doing a featured performance exhibiting several of their newest models outside their AirStream for thousands of NAMM attendees walking by, and filming a Traveler tutorial for Next Level Guitar at the Anaheim Convention Center! It was a once in a lifetime experience, where I was interviewed for industry publications and blogs, photographed by Getty Images, jammed with some amazing musicians, and made some connections that wouldn't have been able to happen otherwise. And the stage is already set for next year!
J Rae: I read that you were recently honored with the Musician of the Decade Award and so can you please tell us more about this amazing experience & recognition?
Laura Cheadle: This truly means the world to me. I have been working hard for many years since I was very young. I have really put my heart and soul into being a musician, and being able to lend my talents to events and efforts to raise funds and bring awareness to certain charities and causes has always been very important to me. Elephants For Autism is an incredible organization in NJ, run by Jerry Ryan. Through the years, he has worked so hard to create a music community behind this incredible cause, and it has always meant so much to me to be involved. He has honored me and my band with several recognition awards since 2014. I am absolutely honored to have won this particular award, because it recognizes my contributions for Musicianship, encompassing everything I do in my career. It makes me feel like all of my hard work is paying off, and I couldn't be happier!
J Rae: I noticed that you were involved with a Philadelphia film project and even had a featured role in the short film titled "Ether". How did this come about and what was it like acting in a film? Could this be a new territory for Laura Cheadle to venture into moving forward?
Laura Cheadle: This is another example of a manifestation. I did some acting in the past, but nothing to this degree. This came out of nowhere. I met the film's creator, Tia Whitfield, while I was performing at a music festival, and we hit it off. She then asked me to be on her radio show, and we began connecting creatively. She ended up writing a screenplay for a movie and just envisioned me in the part, playing a hippie music manager from the 1970s. I read the script and knew it was meant for me. I never in a million years thought that I would end up in a film, but it came out great! It was a hit at the Philadelphia premiere, and I attended a number of well-received screenings. I look forward to seeing where the film goes!
J Rae: In our last interview, I couldn't help but notice that you said you enjoy running and that you log 9 miles daily, which is really impressive! As a longtime, avid runner/jogger myself who has done competitive races, what advice & tips can you give to people just starting up? Have you been involved with marathons, half-marathons or any other type of races and if so can you break it down step by step what preparation went into each event?
Laura Cheadle: It's funny because I never ran a marathon but I always end up singing at marathons! I have sung the national anthem and also performed at several marathons through the years. Running, for me, is a release more than a competitive sport. It's my work-out, my fitness regimen, and my stress release. I love the endorphins and I actually write so much music while running on the treadmill. I rarely listen to music while I run because the quiet helps me think and truly be within my thoughts without interruption. I would tell anyone to take it at their own pace and to not put so much pressure on themselves. I started running on low speeds and for short periods of time. You build up endurance. Running is personal for me, and it is for pure joy.
J Rae: Next, I'd like to touch on your good-natured side and commend you for helping kids with autism. This is near and dear to me because I used to work with people that had autism and other disabilities. The name of the organization you're part of is Elephants for Autism and they are holding a livestream music festival with many acts including yourself. Can you tell us more about this wonderful event, how it can help and what is Elephants for Autism all about?
Laura Cheadle: Absolutely! You can check them out at SproutingConnection.com; they are a wonderful organization to support. I am performing this coming Friday at 8pm EST and it benefits the Autism Charity: Sprouting Connections. Every act will livestream from home via Facebook. It will then be shared to the Elephants For Autism Online Music Festival Facebook Group Page for all to see. I will be livestreaming from Facebook.com/lauracheadle and also instagram.com/lauracheadlemusic. I am so happy to be a part of this charity livestream! I recently also was a part of the London-based Foodstock Livestream charity concert that helped people in need get the supplies that they so desperately needed.
J Rae: Being that you have the privilege of having your family as your band, I would love to know who were some of your favorite musical families growing up? And did any of these close-knit groups inspire you or heavily influence you in any way?
Laura Cheadle: Ha! This is a fun question! I wasn't alive yet when the Jackson 5 were coming up, but my dad always played Jackson 5 music when we were young. That's the only family band I can think of off the top of my head!
J Rae: It's become a staple in my interviews to ALWAYS end on a positive note, so here we go! Can you dish out the most incredible, inspirational message to people out there that could potentially inject hope, happiness and peace into a person's life right now? The floor is yours, so let them have it and in the words of KISS, "Shout It Out Loud" Laura! :)
Laura Cheadle: Take this time to open your mind and heart. You're not missing anything! Life has slowed down, and it's okay to allow yourself to slow down too. It may feel odd at first to be quiet with yourself, but under all that inner noise is where the inspiration is waiting. When you begin the process of aligning your soul with peace, you will spiritually soar. Stay inspired! And stay inside!
By Jimmy Rae (https://twitter.com/2JRae)