I can't believe it's been nearly 10 years since I first came across this guitar virtuoso!  Back in 2010, I reviewed Brennan's album, 'Bullet Ride' (https://skopemag.com/2010/11/25/brennan-dylan-bullet-ride) and it was at that moment I knew my ears were witnessing guitar greatness.  Jumping ahead to the present, I'm thrilled to see Brennan Dylan continuing to shred away like a seasoned Pro on his latest release titled 'Walking Through Fire'.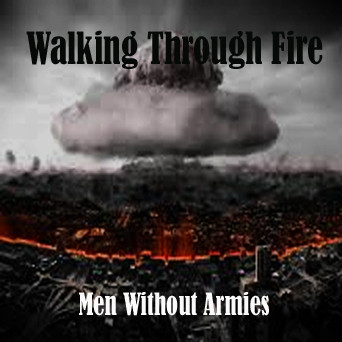 Brennan fronts the band Men Without Armies and this new solo project showcases Dylan's skills not just as a guitarist but also as composer & producer along with playing synth/keys.  There is also a hired drummer on the record who displays an emphatic style.  'Walking Through Fire' is a six-track, instrumental EP that has no shortage of face-melting guitar solos. The record starts up with "Drowning Tide" that offers the listener a hard-hitting rhythm and heavy metal riff.  There is a real driving force present right from the start where your eardrums are soaking in all of the monstrous sound waves!  Next is "Conquer the Emperor" that displays a deep, penetrating beat and mighty noise that is crushing the competition.  Track three has a rocktastic groove that will make you want to "Break Away" and march to the tune of Brennan Dylan and his Men Without Armies.  "Courage Before Glory" is the following number that is courageously bold in texture and contains a powerful sensation that bravely hits you like a ton of bricks.  On the song "Resistance", I can't resist or deny the pulsating drumming and stellar guitar chords being thrown my way.  Brennan Dylan ends on a fierce note with "Falling Through Skies" that comes across as a furious frenzy of jet fighters blasting off.  The shredding guitar licks will light up the bright, blue skies above and attack the airwaves.  You can SKOPE out the official music video for "Falling Through Skies" right here:
which is sure to get your adrenaline pumpin'!
If you're a fan of pure guitar playing and head-bangin' bars, then Brennan Dylan and 'Walking Through Fire' is your ticket!  Brennan Dylan proves to be a true Shred Master on the new release where Rock & Metal collide.  'Walking Through Fire' is blazing hot and honestly I'm surprised there isn't smoke coming from Brennan's fingers due to the ridiculously fast strumming.  The flame is lit and the torch is being carried by Brennan Dylan while he is 'Walking Through Fire'.  Prepare for fiery guitar playing that will leave a lasting & burning impression.
Twitter: https://www.twitter.com/MenWithoutArmys
Twitch: https://www.twitch.tv/bdylanofficial
Facebook: https://www.facebook.com/menwithoutar…
Bandcamp: https://menwithoutarmies.bandcamp.com/releases
Youtube: https://www.youtube.com/MenWithoutArmies
Instagram: https://www.instagram.com/bdylanofficial
By Jimmy Rae (https://twitter.com/2JRae)