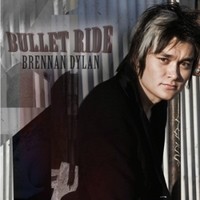 Rock and electronica collide like never before on Brennan Dylan's exciting new album Bullet Ride.   This debut instrumental album from Dylan gives you the best of both worlds from rock guitar to dance-heavy beats.   I remember hearing in the 70s that you either were a rocker or a disco junkie; could not be both.   Jumping ahead a few decades, Brennan Dylan laughs at this crazy notion and says "I Will Survive" just fine with my guitar and "Boogie Shoes".
It's safe to say that Brennan is a pretty damn good guitar player because he recently won Rock Guitarist of the Year at the 20th Annual Los Angeles Music Awards.   His love for that famous stringed instrument and rock & roll music is definitely noticed on the new record.   Brennan Dylan fills up with rocked out guitar licks, but saves room for some fresh dance moves.  
Electro and house producer deadmau5 of Canada is a major influence toward Brennan's approach to music making.   When Dylan visited a Montreal club one night and witnessed deadmau5 in action, that convinced the artist what he needed to do right then and there.   An album that would get the crowd hyped by way of a killer musical combo was exactly the answer!   Bullet Ride is born!
All ten tracks on the record are so hip & cool.   It rocks and grooves as Dylan plays a mean guitar while supplying some filthy, nasty beats.   Songs like "Racing Laguna" make your head bob from north to south and you're gonna get down whether you like it or not!   The title track and "DarkNight Raver" give you more of a hypnotic feel that seems like a perfect fit at one of those crazy rave parties.   The following track "Slammin'" is exactly that with a phenomenal sound being made here.   This is one of my favorite numbers on the disc because it displays this relationship between rock and techno/dance perfectly.   Plus, this song moves & flows like there's no tomorrow making it an instant smash!
Brennan Dylan proves that a guitar, rock and electronica can get along just fine on Bullet Ride.   My only suggestion would be to maybe add some lyrics sporadically throughout this set.   I think this would blow peoples' minds even more so by hearing random lines mixed in with the electro-rock.   I sense a craze happening now at clubs everywhere and Brennan Dylan will be the bullet heading straight to the top of the rockin' disco ball!   Get ready for the ride!
By Jimmy Rae (jrae@skopemag.com)
[Rating: 4/5]