Sex People have taken a whirlwind chaos of far-flung influences, life experiences, personalities, and talents and put it all to music. More specifically, they've put it all into three interconnected concept EPs: Cal-Island, seasons 1, 2 & 3. Cal-Island is an epic tale of dreamers entering the mythical Island of California seeking paradise and romance but instead finding a world of promiscuity, violence, shame, and ultimately redemption. Sex People's own backstory is no less of an adventure, having overcome loss, alienation, poverty, and, almost as catastrophic to any musician, stolen tapes. Downtown LA serves as both the band's home base and one of their many muses. It managed to bring together SoCal vocalist/producer/beatmaker Knarfy, Nigerian vocalist F.I.T., and El Salvadoran-American guitarist and drummer Al Dubon. They're smart enough to take their cues from the greats, like Aphex Twin, Die Antwood, Gorillaz, and Radiohead, but visionary enough to wear almost none of them on their sleeves.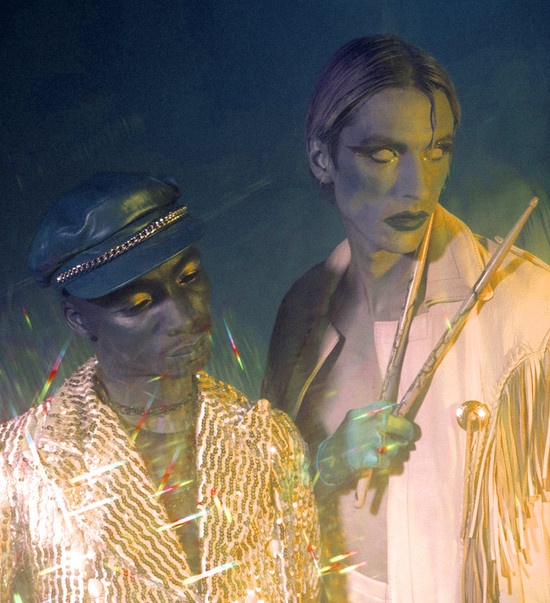 "Sling Slang" features the vocals of F.I.T., and you'd be forgiven for thinking you'd stumbled upon your new favorite MC and his crew. But Sex People's style is as fluid as sexuality, and their one Hip Hop track is a killer representation of the group's eclecticism. It kicks off Cal-Island Season 3 with a hooky, slow-burn groove, dense with dark synths, schizo chants, and banshee wails. Knarfy used his time in Downtown LA's promiscuity community as inspiration and wrote "Sling Slang" to be about someone who exists in the underground sex world who's beginning to question their place. According to Knarfy, "It was written at the first time in my life where I considered myself a 'whore.'" SamUIL and Hobyn Yi, members of LA's Korean and Chinese Pop production house Kairos Music Group, brought the bombast and emotion of those explosive genres to the track and the EPs.
"Sling Slang" is a hyper-real mind-warp that tells a tale of disconnection and misplaced sexual energy within the labyrinthine world of Cal-Island. We meet The Peeping Tom and Cam Girl, at first playing very much to type. Our grizzled voyeur chose the right night to spy because this sordid little street is overflowing with fetishy secrets. He locks his binoculars on a strobe-lit house party jammed with dancers rocking leather and latex. This candlelit pagan sacrifice might've just ended in death, and a couple of furries getting wild, video camera in hand. And that's only the first three houses. In the fourth, however, Peeping Tom, hidden up his tree, slowly realizes he's found someone just as isolated and confused as he is. Cam Girl works her fans in front of her laptop, alone in her room. Soon enough, Sex People's version of a "romantic meadow run" occurs between them, high above the street. They are ultimately united – with each other and all the aforementioned revelers – at the empowering close of this Cal-Island story of romance, lust, identity, and community.