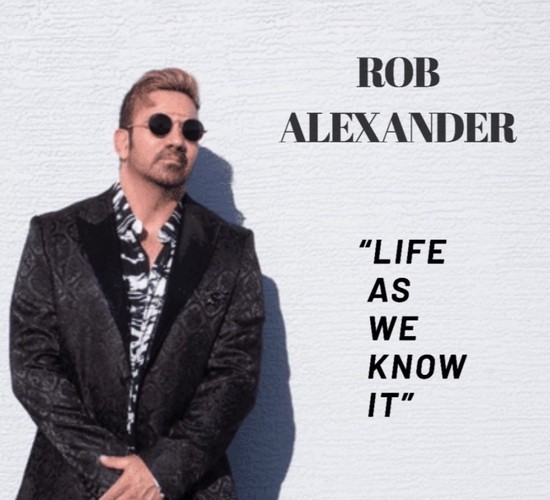 A jazzy beat comes into focus and is quickly adorned with kaleidoscopic melodies, the best of which originate from a staggered piano's gentle rhythm. There are no glittery synths, no bloated basslines. Rob Alexander hasn't even started singing, but the mood is difficult for anyone within earshot to ignore. This is "Life As We Know It," the third single from his popular sophomore LP Being Myself, and much like its title implies, it's an anthem of everyday existence that doesn't necessarily serve as just another social commentary. Alexander has got his heart on his sleeve and all of his passion pouring into the mic in this track, which despite having some incredible company on the Being Myself album, could be the best song this artist has written.
INSTAGRAM: https://www.instagram.com/gasdocrob/
They say that every good pop single starts with a powerful chorus, and while I can't say for certain whether or not this is how "Life As We Know It" was born, it's definitely got one of the sexier climaxes I've reviewed in the month of March. There's a light modulation to the reverb on Alexander's vocal that allows for his voice to spring right back into the bassline whenever he belts out a verse, and in the chorus, the only element more powerful than his singing is the thrust of the backing band (which features three players from Elton John's touring crew). The hook in this song makes it a star, but the musician bringing it to life is what solidifies it as an unforgettable slice of springtime pop.
The narrative in "Life As We Know It" definitely fits in well with the general vibe of Being Myself, but I think there's something particularly unique about the way Rob Alexander goes about presenting it to the audience in this instance. He's so upbeat in his delivery, so uncontrollably carefree, that even his execution produces a level of emotionality that is starkly uncommon among mainstream pop releases dominating the charts at the moment, and while his words are blunt and devoid of the enigmatic qualities a lot of hipster listeners might be looking for, they're surreally perfect for the tone of the melodies accompanying them. There are a lot of working parts to this single, but one component you won't find here is filler (of any variety).
DEEZER: https://www.deezer.com/us/track/790358182?autoplay=true
Rob Alexander pulls us across the finish line in his latest single on the back of a galloping instrumental groove that soon fades into the silence like a setting sun on the western horizon, and when "Life As We Know It" has finally concluded, the memory of its stately harmonies is not easy for even the most stoic of critics to escape. If Being Myself was this artist's game-changing release, than I think this song is its most important cornerstone, and likely a beacon we can all look towards when trying to decipher what will come next from Rob Alexander. He's set an impeccable stage for himself with his first two albums, and from the looks of this new single, he's still got a lot left in the tank to share.
Gwen Waggoner