Prom is the occasion when girls try to look their best in all aspects. Whether it's the dress, jewelry, makeup or even hairstyle they want to look flawless and stand out from others. For this purpose, they prepare for this big day by putting all the efforts it requires.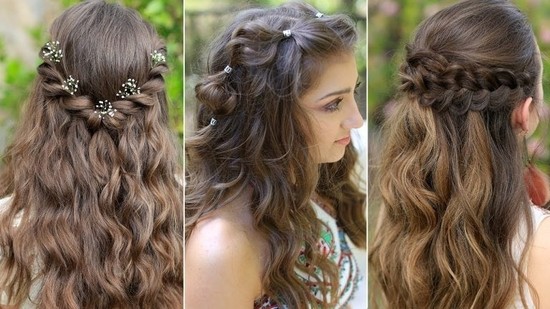 Finding a perfect hairstyle is difficult to choose especially if you want it to look exemplary with your prom dresses. Which hairstyle will suit your face, features and go along with the dress? These questions always arise to your mind. Keeping in view the hair texture is again very important. You have to pick such a hairstyle which is best suitable for your thin, thick, straight, wavy or curly hairs.
But there is no need to stress over the hair texture as well. Straight hairs could get curled and curly could be straightened. You can change the side partition, tie up your hair, put them back, get a nice hairdo or even leave them straight. Even if you want to accessorize it put some beads or hairclips.
Eight Ways to match your Prom hairstyle to your dress
Let's discuss the ten ways in which you can style your prom hair to your prom dress without worrying about the look as it looks perfect and trendy.
1. Fishtail for a Halter Dress
Halter neckline dresses are quite difficult to pair with some hairstyles. Fishtail is the perfect fit for this dress which will make your shoulders and collarbone show more. This will make it look balanced with this type of hairstyle.
2. Low bun for a Backless dress
The best hairstyle for a backless or V-neck dress is to wear a low bun. It shows the back detailing with a clean nicely done up-do. It's a great trend being followed up these days.
3. High ballerina Hairstyle for one-shouldered dress
If you want to highlight the details of your dress go for a high ballerina bun. It makes your one-shouldered dress look more attractive.
4. Swipe side waves for a Mermaid dress
Side waves look gorgeous with a square neckline or a mermaid kind of dress. It gives an impression of a classic look along with the fun look.
5. Beachy waves with Spaghetti strap gown
Keeping in view the elegancy of the dress, beachy waves add to the sophisticated look yet keeping it fashionable and cute.
6. Messy Up-do for a High neck gown
The messy look is always fabulous. Especially if you are wearing a high neck dress it will look stunning if you keep your hair a little simple. The turtleneck drives all attention yo you and your hair.
7. Pumped up a ponytail for a Sweetheart neckline
Pumped up ponytail is a good option to avail for your sweetheart dressed neckline. No matter you are wearing a short dress or a full-length gown it slays with both.
8. Sleek ponytail with a strapless dress
It is the best way to emphasize the small details of the dress. Moreover, it looks classy with a mod look which balances with the shoulders.