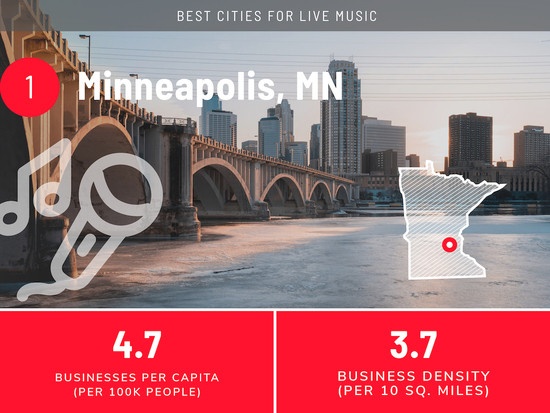 When discussing live music, cities like Nashville, Los Angeles and New York are the first ones to come up.
Sure, one is the birthplace of country music and the other two are home to some of the biggest bands in the world.
Austin also hosts emerging and established bands at music and film festival, South by Southwest.
In our search for the best cities for music, we found that the top 10 looks a little different than we expected. We looked at cities across the country with more than 100,000 people and more than five music venues, and we bet you can't guess No. 1.
Omaha, NE
In the early 2000s, when indie rock bands like Bright Eyes topped the charts, everyone had their eyes on Omaha. Bands continue to play at the city's many venues, such as The Slowdown, The Sydney, The Barley Street Tavern, O'Leaver's Pub and Sokol Auditorium. With nearly half a million people, there's one venue for every 100,000 people.
In between music concerts, check out the Old Market neighborhood, where you can have a good meal, see an art show in one of the many galleries and, if you're lucky, catch one of the many street performers.
The average one-bedroom apartment in Omaha rents for $937 a month.
Portland, OR
Portland is known for its excellent coffee, growing microbrewery scene and ample bicycle paths in and out of the city. One other thing they have going for them? Music venues. The city has given birth to homegrown bands in rock, pop, jazz and folk genres.
Crystal Ballroom, a century-old venue with an original sprung floor, still hosts some of the biggest stars. For smaller shows, The Liquor Store, Valentine's and the Wonder Ballroom host emerging bands for all music tastes. Currently, there are 1.2 music venues per 100,000 residents. There's really something for everyone.
Expect to pay $1,923 on average for a one-bedroom apartment in Portland.
Denver, CO
Denver, the so-called Mile High City, has seen an explosion as a rising live music spot in the last few years. Red Rocks takes the cake as the most beautiful venue, an open-air amphitheater with a backdrop of sandstone monoliths. But while that live music venue takes the limelight, the city has several other venues to offer. Cervantes' Masterpiece and The Bluebird Theater are just two other gems.
Denver has more live music venues than Austin — 16 total to be exact. That's 2.2 venues per capita.
Denver rent comes in at $1,976 a month for an average one-bedroom unit.
Scottsdale, AZ
Known for its proximity to spas and golf courses, Scottsdale has more than a bit of rock 'n' roll within. The former home of architect Frank Lloyd Wright has more than 10 venues available for its musically-inclined residents.
On a seasonal basis, outdoor concerts and live music events pop up in Scottsdale's parks, including the Desert Botanical Garden. Old Town Tavern, voted best music venue in the city, hosts folk and rock bands live on a weekly basis.
Scottsdale will set you back $1,743 a month for a one-bedroom apartment.
Las Vegas, NV
It's no surprise artists host their residencies in Sin City. Famous for its entertainment and neon lights, Las Vegas is home to some of the biggest stars. Celine Dion, Britney Spears and Jennifer Lopez are just some of the major names to have residencies in Vegas.
On top of that, with bands touring, you get even more options at other venues like the Allegiant Stadium. With 19 venues and more than 640,000 residents (plus visitors!), Las Vegas has close to 3 venues per 100,000 residents.
It's the perfect place to do dinner and a show — visit one of the best restaurants on the strip and then head to see your favorite rock star.
Find your one-bedroom apartment in Las Vegas for $1,071 on average.
Rochester, NY
Every spring, Rochester hosts the Rochester Lilac Festival, a weekend full of regional acts across the musical spectrum. The city certainly has its residents covered — while there's a smaller population, Rochester has almost three venues per capita.
While Rochester has major venues like the Blue Cross Arena, emerging rock, jazz and punk bands will be found in the smaller bars. Bug Jar, Abilene Bar and Lounge and Flour City Station have live music throughout the week. Maybe you'll discover a new band or two at any of these venues.
You can call Rochester home for $1,386 on average for a one-bedroom apartment.
Fort Lauderdale, FL
Is there anything better than live music by the beach? Fort Lauderdale takes our No. 4 spot for best live music city, thanks to its plethora of venues and, of course, the annual Tortuga Music Festival. With six major venues and a population of around 180,000, Fort Lauderdale has 3.3 venues per capita.
For those into heavy metal, head to the Culture Room, where headbanging is a true hobby. If you're looking for a more rock 'n' roll vibe, Revolution Live has several outdoor and indoor stages with electronic, funk and rock bands playing throughout the week.
All that fun in the sun will cost you — an average one-bedroom apartment in Fort Lauderdale runs about $2,121 a month.
Miami, FL
Did you know that the Hard Rock Hotel near Miami is shaped like an actual electric guitar? That's the music vibe in Miami. With 14 venues and three per capita, it's hard not to be dancing along to Miami Sound Machine's "Rhythm is Gonna Get You."
The city has several festivals lined up throughout the year including the Ultra Music Festival, Calle Ocho Music Festival and all of the musical acts during the annual Wynwood Life Street Festival. Plus, many nightclubs, such as Gramps in Wynwood and Hoy Como Ayer in Little Havana, double as music venues.
Rent is Miami is the most expensive on our top 10 list. You'll pay more than $2,500 on average for a one-bedroom pad.
St. Louis, MO
In St. Louis, blues and jazz are an integral part of the community's heritage. It even has its own style — it's more piano-based than other blues music. The Beale on Broadway hosts blues musicians every day, while the Grove neighborhood offers a range of spots to hear live music. There are so many venues that it equals four per capita.
St. Louis also has the second-oldest symphony orchestra in the country, so it's worth adding it to the bucket list. Don't miss one of their performances if you visit the Gateway Arch city.
Rent is St. Louis is fairly affordable compared to some of the other cities on this list. You can find a one-bedroom apartment for $1,227 a month.
Minneapolis, MN
Prince was born in it, Bob Dylan started his career in it and Minneapolis takes our top spot for the best city to see live music in the country. With 20 music venues, the city has close to five venues per 100,000 residents.
There's a chance to see live music, no matter your taste, in every corner of the city. Minneapolis' First Avenue club is an iconic spot for many big-time musicians — Prince tested material for and filmed parts of "Purple Rain" in the space back in 1983.
The average one-bedroom apartment in Minneapolis can be yours for about $1,500 a month.
The top 25 cities for live music
Did your city fail to crack the top 10? Before you start smashing your guitar in frustration, check out these areas that made the top 25 list.
Info – https://www.apartmentguide.com/blog/best-cities-for-live-music/