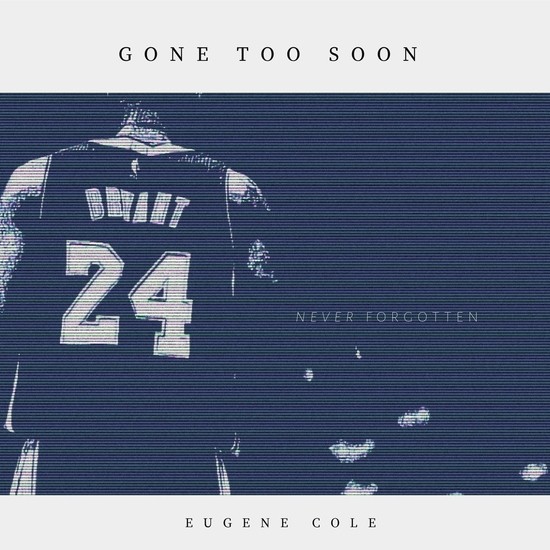 Eugene Cole has released a new song dedicated to Kobe Bryant, titled "Gone Too Soon — A Tribute to Kobe". The song is one that is relatable through its sense of grief, and those currently grieving will likely find the song to be helpful. While the song is written as a tribute to Kobe Bryant, the lyrics can be adapted to be about anyone in the listener's life who was taken too soon.
The song starts with a dramatic tone, with the utilization of bells followed by strings. When the piano melody arrives, it takes a more somber approach. The lyrics mostly consist of similes, comparing the loss of a loved one to something else that comes and goes too soon. One standout simile and lyric is "Like the loss of sunlight on a cloudy afternoon/Gone too soon". The line, and particularly the delivery of "afternoon", puts Eugene Cole's falsetto on display and gives the song an added sense of emotion.
"Gone Too Soon — A Tribute to Kobe" features wonderful lyrics and an instrumentation that matches perfectly with the mood. It is easy to tell Kobe Bryant's passing had an impact on Eugene Cole through the passion and emotion heard in his voice. The song sounds to be a way of coping for Eugene Cole, and will likely do the same for many of its listeners.