New York singer-songwriter Rachael Sage is an all round musician whose music playfully avoids simple categorization. Bringing together flavours of folk.pop, rock, blues and jazz, Sage has built an electric catalogue of material that is both graceful and powerful. Now Rachael Sage is unleashing her bravest, most earnest release to date coming in the form of album 'Character'.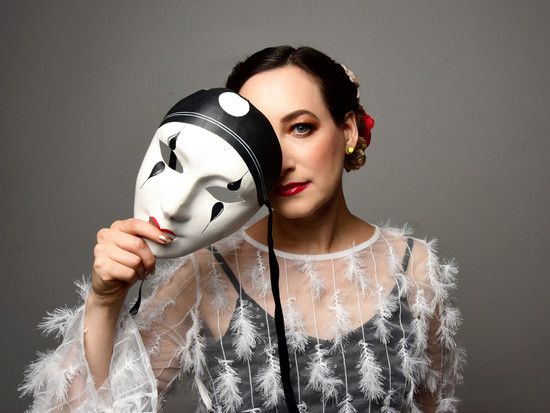 The album features stunning Ani DiFranco cover "Both Hands" , and original compositions "Character", "Blue Sky Days" (featured in American Songwriter), and "Bravery's On Fire" – the latter of which benefits Women's Cancer Research. It was produced by Sage and Grammy® winner Andy Zulla and recorded by Mikhail Pivovarov. Throughout, she plays alongside her touring band The Sequins – drummer Andy Mac, cellist Ward Williams and violinist Kelly Halloran – as well as  longtime collaborators cellist Dave Eggar (Coldplay), drummer Doug Yowell (Suzanne Vega), guitarist James Mastro (Patti Smith) and newly-signed MPress label-mate Grace Pettis.
I had a really great chat with Rachael Sage regarding her new album, her sonic evolution and overcoming life's toughest of battles.
You are currently getting ready to release your new album 'Character'. Could you talk a little bit about the inspiration behind the LP.
I recorded this album as I was recovering from treatment for endometrial (uterine) cancer, with which I was diagnosed in 2018. During the process of writing and creating the record, I was reflecting on the definition of 'character' – not only of my own as I navigated my cancer experience, but also of loved-ones, medical personnel/fellow patients, as well as our political leaders. It was a kind of blood-letting I suppose…an examination through song of what comprises human character, whether it be 'exemplary' or 'questionable'.
The first single you released was 'Bravery's On Fire'. The song tackles some topics very close to your heart, such as overcoming cancer amongst many other themes. How important was it that the lyrics tackled this topic specifically?
The song "Bravery's On Fire" benefits gynecological cancer research, yes. Of course that was very important to me to do, as a way of giving back to those who helped me through my own medical challenges, and also in order to raise awareness of the research that needs to be done to help discover new and improved treatments.
The song itself, however, is less about overcoming cancer at all, than about simply recognizing that advocating for one's own self-care – regardless of the context – can be a radical act of strength. I hope people in all kinds of situations where they may feel pressure to be taking care of others, to wield undue responsibility or otherwise to hide their vulnerability will hear it and take it as a call to communicate authentically to others when they are "not ok", in spite of societal and/or familial pressures.
In my situation, I was in a relationship at the outset of my cancer diagnosis that was very codependent and imbalanced. Inevitably, this compounded my struggle to be "heard" within the framework of my illness, and gave way to the lyrics of this song: a definitive declaration of needing to put my own health and well-being ahead of everything (and everyone) else in my life, however painful or challenging.
The next track 'Character' was the second single from the album. The sound of the song is quite a stark contrast in comparison to your previous single. How did you decide this was the route you wanted to go down, taking a darker approach to the song sonically?
When I write songs, I usually hear right away in my head how I want to produce them; so it's less a conscious 'decision' than me effectively, getting out of the way of the song! The lyrics to 'Character' are much more poetic and obscure than most of the other tracks on the album, and the topic is essentially an examination of the contrast between our traditional definition of morality vs. corruption, using a variety of imagery. The chorus is a release from all of it, with water being a metaphor for coming back to our most human, sacred selves. These are weighty ideas, and also less personal vs. "macro", so I wanted the sound to be expansive and to build to a musical climax. I suppose I wanted the music to sound as moody and dark as some of the feelings we all have, about our current socio political landscape.
The upcoming record is being released through your indie label MPress. How has your experience been putting out music through an independent record label?
I have only released music independently, ever, so it is all I have ever known. I started my label in 1996 in my one-room studio apartment in the East Village. Now we have a proper office with a small staff, and half dozen other artists on the label. But I've been doing this 20+ years now, so of course there have been many ups and downs! It's been, and continues to be an enormous amount of work that has admittedly taken its toll on my health and social life along the way, because when it's your own company, you're inevitably going to be putting in the most hours and doing whatever you possibly can to help see your vision succeed. Overall though, I have zero regrets, and feel very fortunate to have been able to have complete creative control over my own music.
Stepping away from your music for a second, you are all about championing female artists. So are there any other female artists we should be listening to at the moment?
I hope everyone will check out Grace Pettis – who MPress has recently signed! She is a phenomenal singer and songwriter in a soulful, country-pop vein. Her new song "Landon" comes out March 20, and I can't wait for everyone to hear it, because it is a song about forgiveness and compassion. I really think the world needs that message, now more than ever!
Off the back of that, what do you think festival organisers can do more of to include a 50/50 gender split across festival line ups, given the lack of female acts being represented right now?
As a concert organizer myself – having presented numerous MPress Records i.e. "MPressFest " showcases everywhere from SXSW to Folk Alliance, through the years – I think it's just about awareness, period. Are you listening to as diverse a cross-section of your preferred genre as you can, when curating your festival or event? Are you going out of your way to actively encourage diversity in terms of your submission process? It's not entirely different from how an individual would ideally behave, in any neighborhood or community. Be open, be accessible, be proactive vs. passive, and don't be jaded or carry old, outdated biases into your current process. We all have our issues and are creatures of habit. But now is the time to push for inclusivity and really put your money where your mouth is, so to speak. Easier said than done to be sure…and I think the more we can strive as women to create and produce, ourselves, the bigger the eventual seat we will have at a traditionally male-dominated table in this business.
One final word on your new record 'Character', sum up what fans can expect from the album in just 3 words.
"Fiercely honest beauty"
Follow Rachael Sage on the web:
Instagram @rachael_sage
Twitter @rachaelsage
Facebook @rachaelsagepage