There is nothing 'Pseudonymous' about this group that calls themselves Whitewater Ramble because what I'm hearing is 100 % legit music that is super original. Whitewater Ramble resides in Colorado and was named one of Denver Westwood's Top 10 Colorado Bluegrass Bands for 2018. If you're thinking this is your typical bluegrass band then think again! Whitewater Ramble is everything but ordinary by incorporating a wide array of elements & styles into their songs. The music is pure & clear like the streams that run alongside the Rocky Mountains. Whitewater Ramble has been described as "High-Octane Rocky Mountain DanceGrass" and I couldn't agree more!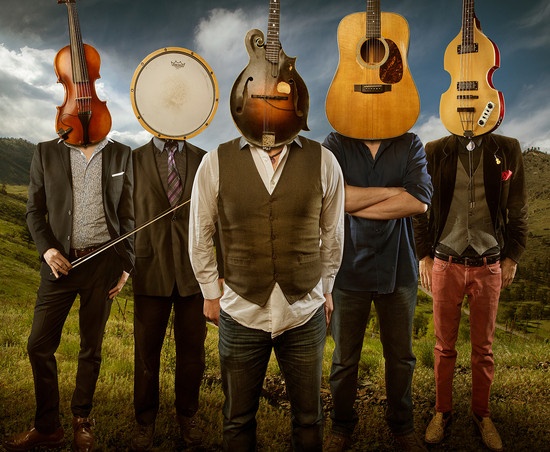 Whitewater Ramble is made up of five members: Patrick Sites on vocals & mandolin, Matt Flaherty on acoustic guitar & vocals, Juri Freeman on upright bass & vocals, Andy Reiner on fiddle & vocals and Alana Dym on drums & vocals. Together, these talented musicians are one heck of a jam band and so it's no surprise to hear that they are one of the hardest working bands in the jam scene today. Whitewater Ramble gets me really excited because they represent high-energy, top quality music and play with such an emphatic force that is contagious to the listening audience. 'Pseudonymous' starts up with "Broken Rocks" that has such depth musically and an interesting transition within the song. Right away, I am getting a sense of what Whitewater Ramble is all about—snappy tunes. Next is "Drinking Song" that contains a country flavor and just a fun-filled number that is ready for consumption. You will want to drink it all in and then get ready to grab your partner and do-si-do as "Drinking Song" speeds up at the end. Track three, "Hallow (feat. Chris Pandolfi)", is blazing bluegrass for your ears while track four, "3 Minutes 2 Spare (Feat. Joey Porter)", brings a funky, fresh groove to the mix. "3 Minutes 2 Spare" has an extremely catchy beat/hook, so try not to sway to this one…I dare ya! Flowing along, feel the Southern winds rockin' across the lands on "Kentucky Windage" and then get equipped with an infectious jingle that will stick to you like Crazy Glue on "It Don't Matter (A Band Widow's Lament)". Track seven, "Collusion", supplies a swift direction and elegant touch while track eight, "Fare Thee Ever Well", is a jolly, old tune that is full of high-spirited cheer. The song, "This 'Ol Guitar" is old-time rock and Stray Cats meets New Age, lively Bluegrass. I love the message on "This 'Ol Guitar" where the line "music makes me whole" is repeated throughout the song. Track 10, "Chaw!", is a wonderful instrumental that is nothing to spit at and track 11, "If You Wonder", has a cool, laid-back tone that's pleasing to hear. One will want to dance a jig and get down on "Mama Got Rhythm" and then get ready for some excellent harmonies on the radio-friendly number, "Can't Blame You Now". WWR ends with toe-tappin', body movin' mojo for your eardrums on "Hallow (Ramble-Remix).
One thing is for certain after listening to 'Pseudonymous' and that is that Whitewater Ramble can PLAY! The instrumentation on this album is just flat-out fantastic and you can tell that WWR just simply loves creating music together. The chemistry is heard loud and clear on this record and I have sincere appreciation and the utmost respect for this Denver quintet. Just like CCR sang about a "Travelin' Band", WWR epitomizes the title of that classic song to a T. Whitewater Ramble has played over 2500 shows around the country over the span of 15 years, so it's safe to say that WWR is not afraid to be called a "Travelin' Band". This is a group I have high hopes for and a band I am big fan of now after taking in 'Pseudonymous'. In the words of Robert Plant from the iconic band Led Zeppelin, just "Ramble On" and let the good music roll!
https://www.whitewaterramble.com/
By Jimmy Rae (https://twitter.com/2JRae)