If you're sick of the same old music on mainstream channels, then brace yourself and your ears for something that is off the beaten path. The name of the group is Tyrants in Therapy and the new release is 'Spoken Weird' that is sure to change your whole perspective on the art of music. If you think you've heard it all, then think again my friends!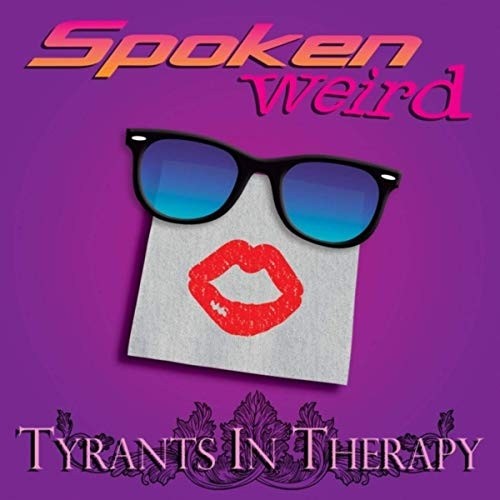 Tyrants in Therapy or TIT is made up of two members: Michael J aka The Tyrant Michael and Abbe Kanter aka Abbe/Abbe. The duo met back in the 1980s in a Hollywood improv class and have been involved with musical projects ever since. Their first official recording was back in 1984 and jump ahead to the current day and 'Spoken Weird' is now the word on the street. Released in the summer of 2019, 'Spoken Weird' will shock your eardrums and make you stop and question everything. Michael J himself referred to the new album as "a jukebox musical on psychedelics", so now you get an idea of what you're getting into. And I concur with Michael's statement because all 14 tracks on 'Spoken Weird' incorporate loads of different styles/genres/influences that will mess with your mind and ears.
The record starts up with a song called "You Are The One I Love" that offers a New Wave, dance hook with a heavy-duty groove. This track is also very quirky and sassy thanks in big part to Abbe/Abbe's vocal delivery. Next on "Sicka Bein' Sick (Detroit)", one will get a cool dance beat mixed with sick 'n' twisted lyrics that will make you stop in your tracks. Track three highlights Michael J's fascination for "Drunk Women" and how he yearns for an overload of heavily intoxicated ladies. This tune is scandalous mischief at its finest and in the words of George Thorogood "Bad To The Bone". Michael J is back again looking for lovely lushes at the end of the record, but this time as "Drunk Dracula". Moving along, the listener will receive a unique vocal approach and delightful piano playing on track four and if you don't like it you can "Shove Off (TIT Featuring Donnie)". Next, you will hear a fun-filled sound with a Pop/Rock, New Wave feel on "That Guy Is History" and then brace yourself for wacky lyrics that will make your jaw drop and yell out "Fuck This Face"! Track seven, "Kiss My Fist", provides a cool 80s vibe while "Zodiac (Live @KPIG)" goes with a refreshing country tone and splash of witty humor from Abbe/Abbe. "Twisted Fable #1 (Potato Chips)" is twisted for sure with Michael J supplying spoken words about God knows what. I am speechless on this number, but would like to add that I enjoyed how the song began and ended with a Dixie-like style on the keys. Track 10, "Nothing To Rap About", proves that Abbe/Abbe is a freestylin' fool with plenty of rhymes and lyrics to go around. "Nothing To Rap About" also provides some sweet, 80s sound effects and Abbe/Abbe's NY accent is in full effect with expressions like "cwall". Next, the listener will get hooked into "The System (Live @KPIG)" that is simple yet effective with catchy chords and then step "In the Shadow of Hitler" with a carnival-like vibe where TIT is dancing to the beat of their own drum. Track 13, "Down In Flames Together", may have a light 'n' airy texture but a deep 'n' dark story unfolds right before your ears.
Tyrants In Therapy is an acquired taste for sure but one you just have to hear for yourself. 'Spoken Weird' is wildly creative and original with TIT proving there is no place for stagnant categories. It's said that their live sets are out of the ordinary and outrageous and it's also said that "TIT delivers a performance so mind-bending you'll forget how to get home, even if you're sitting in your own living room". Give Tyrants In Therapy a chance and say yes to 'Spoken Weird' because it will be an unforgettable listening experience. I promise that!
https://www.tyrantsintherapy.com/
By Jimmy Rae (https://twitter.com/2JRae)