Get ready to grab a full glass of SixFoxWhiskey that is aged just right with their latest release titled 'Naughty Air'. Nothing Naughty about what I'm hearing on this new album but rather a professionally clean record with plenty of fresh Air to go around. SixFoxWhiskey brings an exciting dose of vibrant music on 'Naughty Air' that is sure to refresh your ears.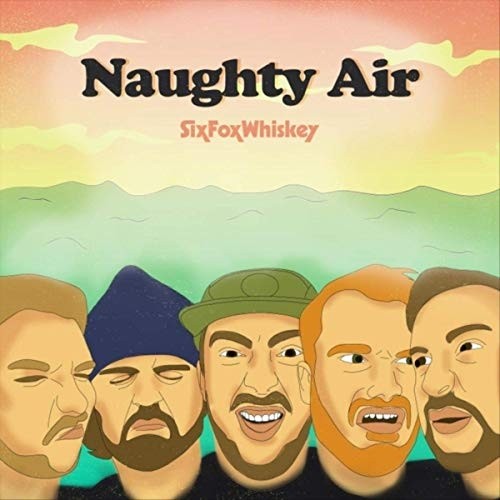 SixFoxWhiskey is a five-piece band from Boston that features: Brad Moreno on vocals, guitar & keys, Tyler Davis on drums & vocals, Thomas Yannopoulos on bass & vocals, Dan Felix on Saxophone & vocals and Chris Ballerini on guitar & vocals. Together, these musicians create music that includes elements of: jazz, funk, pop, rock and it's simply satisfying to say the least. It comes as no surprise to me to discover that SixFoxWhiskey has been pegged as "one of the fastest growing bands in New England".
'Naughty Air' is the group's third album in four years and was recorded with award-winning producers Sean McLaughlin (Matchbox 20, Percy Hill, Tony Savarino) and Zach Bloomstein (Chris Robinson, Joe Perry, Chuck McDermott) at widely acclaimed 37' Productions in Massachusetts. The end result is just spotless and spot on with the recording quality at a 10. The record starts up with a song called "Betty" that is so jazzy and funky while also including an infectious beat. On "Betty", one will also pick up on inviting vocals that comes across as feel-good music with a silky smooth style. Next, you will reach "Common Ground" that is so darn catchy and has an incredibly appealing nature. The listener will hear solid playing, wonderful harmonies and a killer melody on "Common Ground". There is also a radio edit version of "Common Ground" that is more condensed but doesn't lose that magic vibe present in the original. Track three, "Oh Ya!", is an easy-going tune that is pleasing to the ears and has just the right amount of mellowness at just the right pace. The pleasant surprise was the furious finish at the end of the song and all I can say is "Oh Ya!" Moving along, "Waterman Ave" is a quick number yet efficient with its golden harmonies for all to enjoy. Track five, "Crossroads" offers a strong performance from SixFoxWhiskey that will cross your mind and have you stopping in your tracks. "Crossroads" has a commanding presence that makes you listen and pay attention as it seems you are heading down the right path with this convincing number.
I'm a sucker for the sax, and so I thoroughly enjoyed the playing from Dan Felix as it was music to my ears! But, I have to say that the entire band played magnificently as each section was polished and the overall instrumentation was a joy to listen to. SixFoxWhiskey are currently on tour, so be sure to check out this funked-up, jazzed-out band from New England. SixFoxWhiskey can jam out with the best of them and 'Naughty Air' is a true testament to that. It's time to drink it all in and breath in the 'Naughty Air'; now serving SixFoxWhiskey.
https://www.sixfoxwhiskey.com/
By Jimmy Rae (https://twitter.com/2JRae)