Julia King is a musical trendsetter of sorts as she gives the big middle finger to categorized genres. This label-free singer/songwriter from New York has just released her debut album titled 'Radio Therapy'. I am actually shocked to discover that this is the first recorded album for Julia King because she comes across as a seasoned vet on all nine tracks.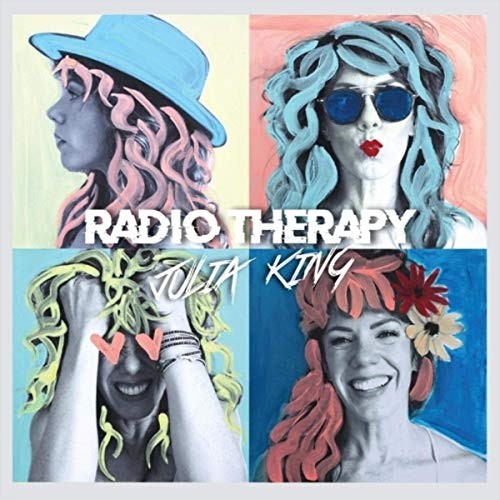 Julia King also has a solid group of players accompanying her on 'Radio Therapy' and they are: Gregory James Elroy McMullen on electric/acoustic, pedal & lap steel guitars, Jason Kronick on percussion, Brian Karp on bass and Oscar Williams II on piano. It's also worth mentioning that Julia King and Gregory James Elroy McMullen produced the album and Jason Kronick mixed and engineered 'Radio Therapy'. Julia King & company cover the musical spectrum with elements of: country, soul, rock, blues, funk & pop. Julia King's music can best be described as everything but the kitchen sink and has been referred to as "sonic art" and "poetic Misfit Americana mash-up". 'Radio Therapy' starts up with a song titled "The Storm" that is rumbling with passion complete with a bluesy, soulful and funky rhythm. Julia King exhibits soaring vocals and delivers a commanding performance that proves to be the perfect storm. Get ready to shoot for the stars on "Cannonball" where Julia sings with such control and emotion. "Cannonball" displays an easy-breezy feel that has a bit of edge and a cool, country, rock sensation. Track three, "Best Life", is wholesome yet frisky with Julia King giving off a playful vibe that is tempting to the ears. Prepare to jump aboard and "Rock Your Boat" where this song is sailing off at the ideal speed while providing a smooth flow. It's time to get a little cozy and embrace "Lovers Lament" where Julia is simply singing her heart out. I have to be honest that I'm fallin' for this one due to its intoxicating groove. "Lovers Lament" even throws in a dash of gospel influence that makes the track shine even more. Track six, "What Makes You Go", offers a consoling, comforting feel with a classic, honky-tonk touch thrown in. The next song, "Damage", gives the listener a serious demeanor that truly speaks and hits you deep inside. Moving along, one will hear "Cream" that contains a haunting melody and sense of mystique that turns out to be a mind-blowing experience. Julia King ends on a high note with "Insomnia" that is one power-packed finale. I even pick up on hints of New Wave sound thanks to the keyboard playing and can't forget to mention the shredding guitars adding a nice punch. So, buckle up and get ready for a rockin' ride where you certainly won't fall asleep at the wheel to "Insomnia".
'Radio Therapy' is therapeutic in the sense that Julia King is throwing every emotion and musical style at you and mixing it all together for your sheer enjoyment. The end result is a winning formula that is sure to make waves. Julia King and her band are currently hitting many popular venues in NY, so you don't want to miss your chance to witness this musical chameleon live in person. Freddie Mercury of Queen once sang that "Radio" is "Ga Ga" and now Julia King gives the public good, old-fashioned 'Radio Therapy' to chew on.
https://www.juliakingmusic.com/
By Jimmy Rae (https://twitter.com/2JRae)