Make way for AXLS – their debut album 'First Contact' will have you gripped from start to finish.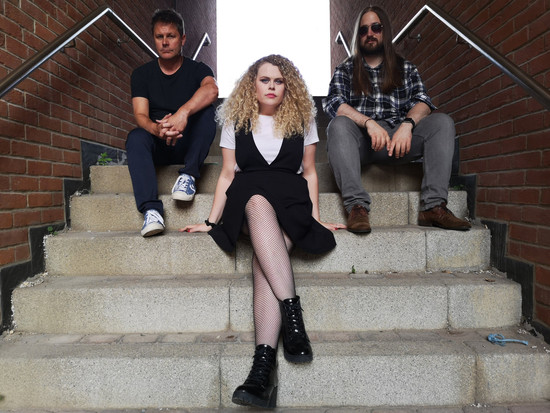 'First Contact' was released in January 2020. If you haven't heard it yet, trust me you're missing out! It's a compelling concept album with an otherworldly theme. In fact, it belongs in a world all of its own. As the band explains: "'First Contact' is an electronic concept album influenced by the sci fi landscapes of Bladerunner, 2001 and John Carpenter." Let's find out more!
AXLS are Victoria Ownsett (lead vocals), Chris Simmons (synth) and Conrad McQueen (bass guitar). The trio gave us an appetiser of the album when they released their intriguing single 'Alias' last year. And if you're wondering what Alias is… well, SHE is at the centre of the entire album. 'First Contact' explores the story of Earth's first encounter with an extra-terrestrial race. The newcomers enslave humanity with their addictive, immersive virtual reality. Only Alias, a young girl, has the power to resist and lead the fight back. Gripping stuff! 
Not only is the concept strong, so is the songwriting! 'Snowblind' is a song full of sass. It begins 'Sit down and shut up…' and takes us on a synth-pop ride we haven't been on before. While the band count CHVRCHES and LCD Soundsystem among their influences, it's clear they're still doing something entirely new. Victoria's vocals play a large part in this – sophisticated and ear-candy-delightful. The lyrics are gripping too, and avoid any clichés we hear all too often in pop music.
There's clearly been a lot of thought and talent that has gone into 'First Contact'. The end result? An album that makes beautiful sense as a whole, as well as individual tracks. Now that's a rare thing in an age of quick throwaway singles made to cater for Spotify algorithms!
AXLS are starting to make waves across the North-East music scene, and are set to play in Newcastle both at The Globe on March 13th and at The Little Buildings on May 2nd. I've heard they're excellent live too. 
Stream the platform on all major platforms here: https://songwhip.com/album/axls/first-contact