It's not uncommon for rock performers to sing about how they were born to rock. In Erin Coburn's case, though, this is literally true. She was performing at open mic nights at only seven. She wasn't just there to look cute, either, but was playing guitar and singing at the same time. She created her first band at twelve. At thirteen, she'd already recorded an album. This was in 2015, and now in 2020, she's released her third album, Out From Under. She established a musical career before most Americans have even started their careers. Born to rock, indeed.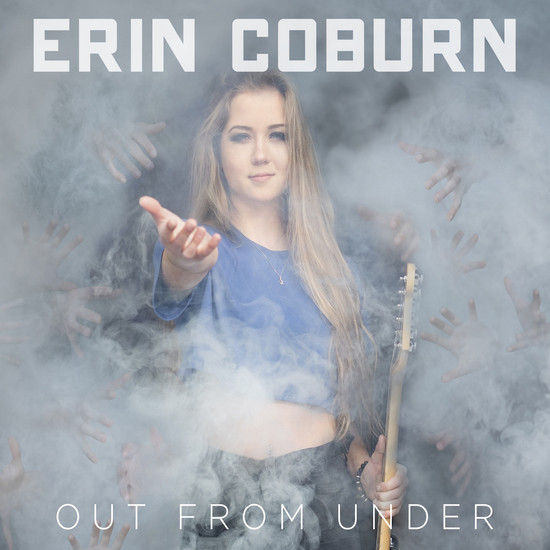 The album's title cut is a kind of Bonnie Rait-esque blues rocker, featuring harmony chorus vocals and a sassy lead part on the verses. The song's arrangement owes much to Eric Clapton's smooth blues-rock sound. Coburn surrounds herself with gutsy instrumentation yet sings with a relatively velvety vocal tune. "Out From Under," which is 6:32, includes an extended instrumental section. It's not just a song; it's a jam. It exemplifies how Coburn is an inspired instrumentalist, and not just another singer/songwriter.
With "Your Mind Gun," Coburn sings with a prettiness that is as much pop, as it is rock. Lyrically, it speaks about how thoughts can be used as weapons. The saying, 'Sticks and stones may break my bones, but words will never hurt me,' does not agree with this song's contention. No, mind games can create a "victim," as Coburn puts it in the song's words. This track, too, features extended Coburn electric guitar soloing.
Streaming: https://open.spotify.com/album/2g0PZGtugaFog1MvW4YWcH
Coburn is from Kentucky, but you don't hear anything along the lines of, say, bluegrass on Out From Under. Coburn is more likely to play at places like Buddy Guy's Legends in Chicago or the King Biscuit Blues Festival in Arkansas and opening for the likes of Larry McCray or The Marcus King Band. Blues is a large part of her overall sound, even though many of these eleven songs aren't strictly blues. Her songs incorporate blues elements, rather than pay sincere straight homage to that wonderful American musical style. In this respect, Coburn is a whole lot like Bonnie Raitt. Raitt is not a dedicated blues artist, however, she would never have arrived at her unique sound without the blues' influence.
https://www.instagram.com/erincoburnmusic/
One called "Trip On This" is a unique take on anti-drug sentiments. Instead of speaking out against the dangers of drugs, the song's words extol romantic activities that make a person high – without any chemicals. The track includes a big, bold guitar solo in its middle section. Coburn sings it like a pop song, but plays it like a blues-rocker, which gives it a unique vibe. With "It's Over (Virtual Realty)," Coburn sings with a touch of swing and a lighter approach. She could easily create a straight pop album, if she wanted to. Nevertheless, she's probably too much of a natural rocker to ever do something like that.
Out From Under is a rock & roll album from an artist that – even at a young age – sounds like a musical veteran. It's been said that youth is sometimes wasted on the young. Not at all so with Erin Coburn, though.
-Dan MacIntosh