When taking in an eclectic instrumental compilation like Magic Corporate Ride, a 17-song treasure chest of tonality and expressive melodicism featuring Ron Verboom's "First in Class," Gregory Tan's "Take Flight," Tim Tully's string-powered "Wonderful Splendor" and the lushly elegant "So Shall It Be" by Timothy Juliano, it's important to stop everything else going on in the room and focus purely on the music surrounding you in the atmosphere. This is an embracive listen, an intricately-wound collection that requires the full attention of its audience, but though it was made for the devoted fans over the once in a blue moon-crowd, it has all the right tools to satisfy all those who would desire a rare compilation of the most deliciously decadent strain this season.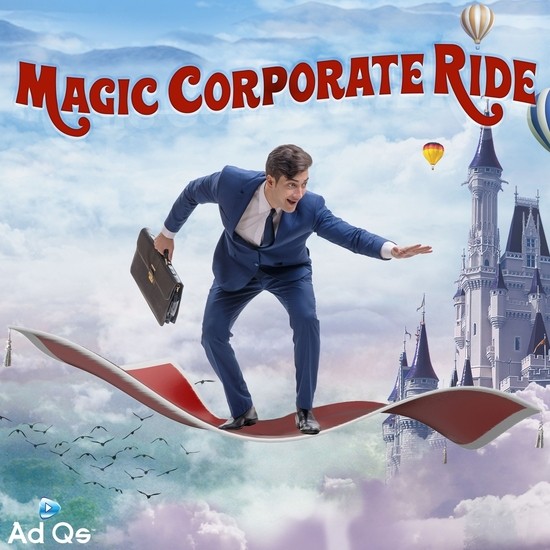 Serhii Rybak steps into Magic Corporate Ride with one of the record's most beautifully supple tunes in "Garden of Life," and like Jason Hogan's "Long Black Dress" and Antonio Palazzo's perfect "Melding," you don't need to crank the volume up past ten to hear all of the detailed nuances within the harmonies these tracks contain. Andrew Hind's "Ahead of the Curve" is as strongly produced as Peter Cavallo's "Shining Light" is, but I don't believe that either of these songs – nor any of the 17 here, actually – needed additional zealousness from the folks behind the glass to make a lasting impact on the listeners who would pick up their own copy of Magic Corporate Ride this February. The material speaks for itself; if plastered with any frills, it just wouldn't sting as hard as it inarguably does here.
SPOTIFY: https://open.spotify.com/album/5RT4PbZw5ZLouBRDdUfPth?si=lk9mtzr1RlyJ902x7KD0MA
"Devoted," by a collaborating Chris Winston and Ed McMahon, was the right song to put at the top of this tracklist while Burkhard Mahler's relentlessly friendly "Atomic Playground" provides us an ultimate conclusion to the record, but if I were to make any tweaks to the order of these tracks, I probably would have put Arthur Varkvasov's "The Spring Song" closer to the beginning of Magic Corporate Ride. Together with "Eyes of the Beholder" from Make Room Music, "The Spring Song" issues a watershed of evocative melodies that I couldn't get out of my head after initially listening to them, which isn't exactly something that would usually happen in my reviewing instrumental content like this.
The glow of the strings in Frank Hall's "Fairyland." The fluttering tempo of the keys in "Spring Bird" by Alexandre Guiraud. The gentle nudge that comes from the mild rhythm of Kevin H Ross' "Sophisticated Day." The chilling duel of instruments in the Matt van den Heuvel song "Visionary Mindset." Magic Corporate Ride produces more smashing moments than it does skippable duds by leaps and bounds, and if there's anything to be learned from its 17 compositions and the artists responsible for their creation, it's that indie fans have a lot to look forward to in the instrumental genre at the moment. If you haven't already taken some time out to spend with this LP, doing so on the next possible occasion would be wise – if for no other reason than to find out what all of the buzz has been about.
Gwen Waggoner