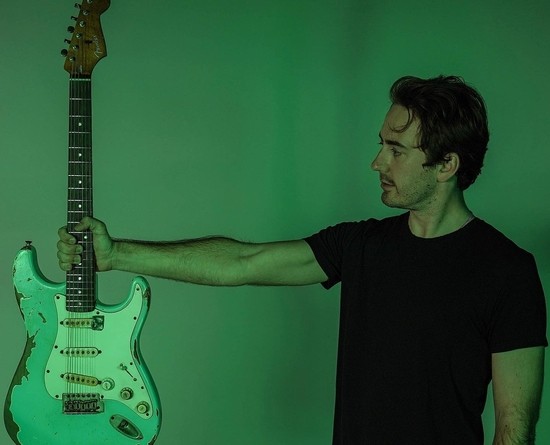 While listening to Paul Childers' "I've Got You" you can feel his smile. He's just that positive energy, that melody you need in your life. Childers' newest track is from his robust album Secondary Colors. Feeling good and hitting all the sweet, jazzy notes is indeed becoming secondary nature to Childers' listeners.
URL: https://www.paulchildersmusic.com/
"I've Got You" isn't quite the pop, dance track that Justin Timberlake's "Can't Stop The Feeling" released to the world, but Childers' is in the same arena. Bouncy and funky guitar and basslines make for an energetic and fresh opening stanza. When he sings "– no matter what the future brings / from poverty to diamond rings – oh darling / just know one thing, I got you girl" Childers' vibe is infectious. Like other tracks on Secondary Colors, his lyrics often reference nature and birds. "The sun has the sky / the bird has the tree…" he sings. (In Secondary Colors' opening track "Can You Feel It" he sings about the soil and gardening). Interesting to say the least, but Childers makes it work.
The piano dances around the guitar and downbeat just as much as the listener feels like they are jiving with Childers. It's more jazz and pop influenced piano. Much like Harry Connick Jr., Childers' command of crossing over these genres serves his listeners very, very well. It's hard to tell if Childers had more fun making this song than the listener will have hearing it. The percussion is steady and not disruptive. It's background or support role but there are moments when the beats just fire away and rise to the occasion.
Sure, "I've Got You" is lovey-dovey. Awe shucks embrace it! It's a fun song and this Nashville-based singer-songwriter sure has inspiration all around him in Music City. I really enjoyed the piano embellishment and after a few listeners, leaving the keys out would have been a major blow to the song's feel. The piano is integral to the track's success as much as Childers' personality. The basslines and music bed is just tight. Truly, this song is not lacking in any way. It's got a be-bop to it and a mood that would align with fans of Frank Sinatra to Timberlake to even John Legend. If I were to hear this song performed live, I can just imagine Childers tearing it up on the piano and really surging the crowd. It's that type of song – the kind that would just feel like a wonderful jam. He brings the energy of a live show into the recording of "I've Got You".
YOU TUBE CHANNEL: https://www.youtube.com/user/ChildersPaul
Childers does it again. "I've Got You" has timeless and widespread appeal. If you're not tapping your toes, bobbing your head or dancing away to this track, you're listening wrong. "I've Got You" is a great-get from a talented singer/songwriter with lots of fun and joy to spread – Paul Childers is coloring the music world with lots of bright colors. "I've Got You" is just the latest chapter in his remarkable songbook.
Gwen Waggoner