Cinderella produced some of the most memorable and popular blues infused, hard rock songs of the '80s/ '90s glam era – and the man behind the platinum pen was front-man and multi-instrumentalist Tom Keifer. "Nobody's Fool," "Don't Know What You Got (Until It's Gone)," "Coming Home," "Shelter Me," and "Heartbreak Station," to name a few: if you were young, passionate and ready to rock at the tail end of the Reagan Era, Keifer's songs are part of your personal soundtrack. Keifer's writing style overall had a more, soulful, blues inspired depth that set him apart from his contemporaries. That depth, both lyrically and musically is felt throughout the mega-platinum albums Night Songs (1986), Long Cold Winter (1988), and Heartbreak Station (1990). It's the heart and soul of the harder, rougher, bluesier sound that set Cinderella apart.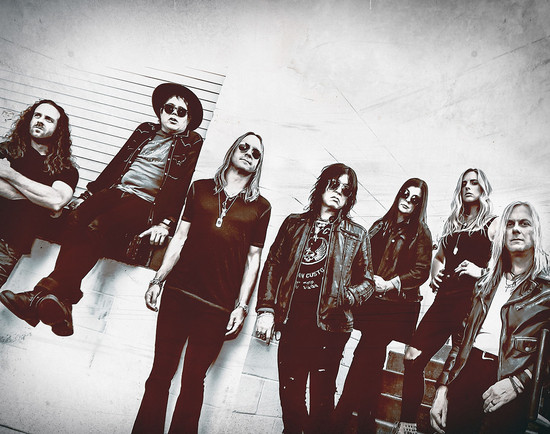 After suffering a major set-back to his career in the form of a paralyzed vocal cord in the 1990s, Tom Keifer was told by doctors he would never sing again. But a quitter he's not – after multiple surgeries and years of long, hard rehabilitation, he's reclaimed what he lost. Now with a little extra vocal grit, he's released two critically-acclaimed solo records. "HYPE", written by Tom Keifer and Savannah Keifer, is the incendiary new single from #keiferband's latest release RISE. He begins the song with a roar and sustains that intensity for three and a half blistering minutes. #keiferband – Tom, Savannah Keifer, Tony Higbee, Billy Mercer, Kendra Chantelle, Jarred Pope, and Kory Myers – deliver their music with an uncommon fierceness: white-hot blues, molten metal, sleazy, snarling rock as an expression of rage and indignation.
And what's fueling Keifer and company's angst in their latest video? Well, in a world as dysfunctional as ours, what have you got? "HYPE" takes on social media, the cult of personality, the meaningless chase for popularity, the emptiness of modern political discourse and the amplification of it all through today's technology. The songwriter does it the only way he knows how: full-throated, with no ambivalence, and nothing held back. Critics have noticed: Loudwire named it one of their top 50 albums of 2019 and called it "a gem of a record that manages to walk the line of recapturing the heart of his early works yet still feels totally vibrant for today; KNAC.com named it #3 on their Top 10 albums of 2019 list, saying "On RISE, Keifer is showing the kids and his contemporaries how it's done"; Vintage Guitar praised the nods to Rolling Stones, "Cinderella-styled scorchers", and modern sounds; and Ink19.com said Keifer "succeeds in proving (once again) to be an artist who knows no creative boundaries and remains in a league of his own." All agree that Keifer, along with his new band, has never been better, or more relevant.
Vicente Cordero's clip for "HYPE" shows that Tom Keifer can still command a camera, too. He's the focus of the video – shouting out his message to drown out the overload of noise, information and deception we're all bombarded with in today's culture. But there's plenty of screen time for his collaborators too, and they play the song with the sort of filthy rock and roll swagger that #keiferband has become known for. "HYPE" is uncompromising, hard hitting heavy rock with a deep groove.