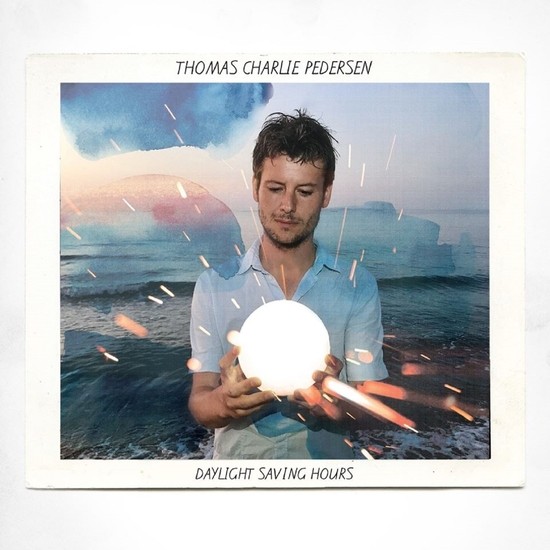 Hypnotic but not deliberately ambient in nature, the guitars that we hear in tracks like "Faithful Mistress," "The World is Not Your Oyster," "The Meriwether Pull" and "Must Be the World" (including in its brilliant music video), all of which can be found on the new record from Thomas Charlie Pedersen titled Daylight Saving Hours, are at the foundation of every verse we hear. Beautifully mixed throughout their numerous appearances on Daylight Saving Hours, the strings that Pedersen and his brother Daniel will use as a tool in telling one story after another are an irreplaceable staple of this record's charm, but make no mistakes about it – they're not the only intriguing component for us to embrace within this incredible new indie album.
FACEBOOK: https://www.facebook.com/thomascharliepedersenmusic/
There's a lot of detail underscoring the lyrics of "Sad to See You Go," "Moveables" and the dreamy "Stay True" in the background instrumentation, but I wouldn't say that there are any elements in this LP that would qualify as being overthought or stretched beyond their limits at all; actually, quite the opposite indeed. One of the most endearing features of Daylight Saving Hours is its efficient structuring, which hasn't exactly been a commonplace attribute among independent folk albums to see release in 2020. Pedersen rejects fluff altogether here, and that alone makes this record a winner in my book (and probably one in the eyes of any listener who has grown tired of all the filler we're forced to work around when acquiring a mainstream full-length these days).
"Green Plateau" and "At the End of the Day" have some of the most brilliant textures that I've heard on a Thomas Charlie Pedersen record to date, and had he not been as free to use every weapon at his disposal in these tracks, as well as the old school groover "The Freewheeler," I don't know if they would have been as affective as they are in this particular scenario. There's as much to enjoy in the physicality of this album as there is the melodic intricacies that hold everything together in its contents, and for the discriminating listeners of the world, I would say that Daylight Saving Hours is one of the few independent LPs out this season that successfully balances these two contrasting aesthetics quite as well as this one does.
APPLE MUSIC: https://itunes.apple.com/us/artist/thomas-charlie-pedersen/1147209407?ign-gact=3&ls=1
Those who have been following Thomas Charlie Pedersen for a while are going to be more than a little excited about what he's accomplished in Daylight Saving Hours, and based on the critical reception it's getting on the moment, I think this artist's loyalists aren't the only ones who are feeling the love for this stylish brand of alternative folk music. It's a worthwhile spin regardless of whether or not you've heard Pedersen's work before now or not, and if it gets any more attention through the rest of 2020 as it has in the weeks following its official release date, there's a good chance it will join the ranks of the other breakout underground records of the year as undeniably essential listening.
Gwen Waggoner