Tom Misch has already built a reputation for beautiful music. Geography, his debut full-length, was an exercise in sustained gorgeousness from the man called "one of London's brightest young talents" by the NME. Everything about the album gleamed: its glittering production (by Misch himself), the sharp songwriting, and the guest performance from other acolytes of hip-hop and R&B beauty, including De La Soul, GoldLink, and Loyle Carner. But there's a darker and more turbulent side to Misch's music, too – and the world is about to discover it.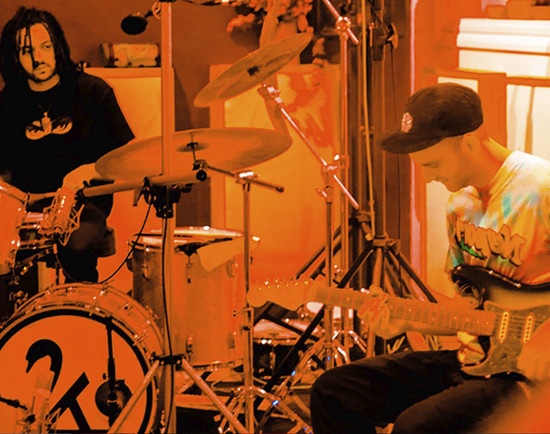 What Kinda Music, Misch's follow-up, is a collaboration with another imaginative young UK artist: virtuosic percussionist and experimental electronic musician Yussef Dayes. Dayes was half of Yussef Kamal, a brilliant collision of jazz and soulful pop; on his own, his "Duality" single demonstrates his versatility and his skill at conjuring sonic illusions. On What Kinda Music, he amplifies the shadows that lurk in Misch's vision, and tugs the guitarist and producer deeper into the waves. The list of features on the album is just as impressive as it was on Geography, but these are guests who play things a little rougher, and party a little harder: the incisive Midwestern gangsta rapper Freddie Gibbs, the haunting soprano saxophonist Kaidi Akinnibi, and bassist Rocco Palladino, the formidably talented son of the legendary session man Pino Palladino.
"What Kinda Music" is the kickoff track, and the title tune, and a statement of artful ambiguity – Misch and Dayes are working in a place well beyond genre, respectful to all traditions but beholden to none. The song is an effortless blend of hip-hop breakbeats, icy synthesizer textures, soulful vocals, and pop hooks; it's as pretty as anything on Geography and as unconventional as Yussef Kamal at its most adventurous. Beautiful as it is, the impression it's most likely to leave is one of dark clouds gathering on the horizon.
The crisply-shot, dream-drunk clip for "What Kinda Music" is similarly troubled. The camera follows a young man's descent into a tube station that, somehow, becomes a mad dash through a forest as plants take over the subway. Yet it's not exactly a nightmare. Instead, it's a juxtaposition of elements that don't normally go together but fit uncannily well. It is, in other words, a perfect visual metaphor for the songwriting alchemy of the Tom Misch & Yussef Dayes project.