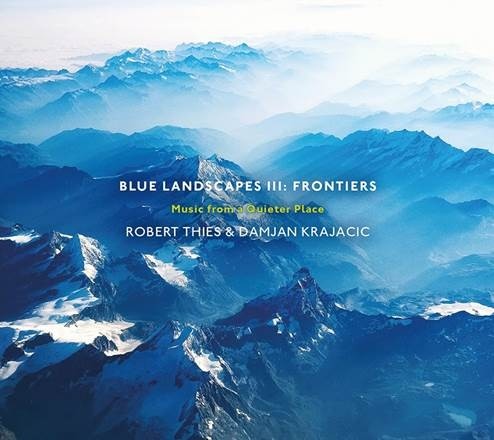 If you've had a busy day and need to unwind, then the key is to consume the music of Robert Thies and Damjan Krajacic. This duo has a way of putting your whole body and mind at ease, so kick back and relax without a care in the world! Speaking of the world, these multi-talented artists share a deep appreciation and love for all this planet has to offer. Robert and Damjan are making big waves with their latest release titled: 'Blue Landscapes III: Frontiers (Music from a Quieter Place)'. Check out this behind-the-music video where the two musicians go into detail about the new record:
Prepare to dive into this peaceful space created by Robert Thies and Damjan Krajacic where "Sometimes living more simply means living more fully".
J Rae: I have to say, from what I've heard thus far, that your music has an incredible calming effect that just seems to put your whole body and mind at ease. Was this the intention all along when you set out to start writing and making music together?
Robert Thies & Damjan Krajacic:
Damjan: When we first set out to record what eventually became 'Blue Landscapes', we simply wanted to make music together and to create "in the moment". The great majority of the material on this album, and on the first two albums, is in fact improvised. We realized at some point that we had a "sound", and that what worked best for us was to slow things down, slow the energy down, play less, and let the space between the notes mean just as much as the notes themselves. It put us in a special, meditative, transcendent space, and this is the energy we have been following since.
J Rae: I'd love to talk about your latest album titled 'Blue Landscapes III: Frontiers (Music from a Quieter Place)'. This record was just released on January 24, 2020 and wondering how the overall response has been so far?
Robert Thies & Damjan Krajacic:
Damjan: The response we are hearing is that the record affects people deeply and genuinely, and helps them reach peace. This is all that we could wish to hear. It has been getting good airplay as well, and we really hope it will have a chance to reach more people and offer the same kind of gift of calmness.
J Rae: I am simply mesmerized by the majestic mountain setting on the front cover of 'Blue Landscapes III: (Music from a Quieter Place)'. I'm sure the Skope audience would like to know who is responsible for this wonderful imagery and what is the precise location of this marvelous mountain range?
Robert Thies & Damjan Krajacic:
Damjan: We love this image. For the first two albums, we featured photography by our dear friend Dean Roksandic, who also designs all our artwork. The cover of 'Blue Landscapes III: Frontiers', however, is an image we found on UnSplash and immediately fell in love with. It is by a photographer named John Rodenn Castillo. Unfortunately, we are not sure which mountain range this photograph features.
J Rae: It makes sense that the viewer/listener would first see spectacular peaks before diving into the album because 'Blue Landscapes III: (Music from a Quieter Place)' is, in fact, dedicated to Mother Earth and all of its sheer beauty. I definitely share your love of nature but wanted to ask if there were specific destinations in the world that helped inspire this record?
Robert Thies & Damjan Krajacic:
Damjan: I am sure that subconsciously, we were affected by our travels and explorations of the beauty of this planet, from the mountains and oceans of California to the beautiful landscapes of Croatia. But no, we were not thinking of specific locations as we were making the record
J Rae: The pairing of the flute and piano seems to be the ideal recipe for reflective, inspiring compositions. Curious to discover what your initial thoughts were when the full album was recorded and you both heard it back in its entirety?
Robert Thies & Damjan Krajacic:
Damjan: We love it! We feel that it has the strength and maturity of a third album, is genuine in its purpose, and retains the direction of what 'Blue Landscapes' is about. At the same time it offers something new and fresh that we have not explored in the first two albums.
Robert: If I were to tell friends that I made albums of flute/piano music, I think many of them would form preconceptions of what that music would be. Instead, I like to tell people that a good friend and I have gotten together and created this music together, and the music happens to involve only two instruments. With the use of loops and extended techniques on both instruments, I believe we've created a texture that is far more cinematic in scope than people might think. I am also happy to say that I can listen to these albums repeatedly, allowing my mind to engage as much as I choose, and feel a sense of peace without feeling self-conscious in any way.
J Rae: As a former alto sax player in junior high/high school jazz bands, I truly loved the freedom of improvising off the sheet and creating something completely of my own. With improvisations being key in your music, what is the exact feeling like when you know you just tapped into something special when playing/recording?
Robert Thies & Damjan Krajacic:
Damjan: To me, that moment is about life itself, a feeling of a true connection to yourself and to everything around you. It is spiritual, and it is deep. You can't describe it, but you know when it happens.
Robert: Damjan said it beautifully. I would just add that it gives me an enormous sense of joy knowing that I have created something which taps into something deep within me and simultaneously affects listeners so positively. Being able to share this experience with another musician and dear friend is so gratifying. It is also affirming as a musician as well as a human being who wants to give something back.
J Rae: This is the third installment in the 'Blue Landscapes' series and I'm sure the Skope Universe would like to know what is different and unique about this music project vs. the previous two releases?
Robert Thies & Damjan Krajacic:
Damjan/Robert: We see the third album as an evolution of the sound of 'Blue Landscapes'. As I have alluded to before, the new album is true to our sound, but we have added a few things that we haven't done before – a couple compositions where a four-part flute choir holds the harmonic and structural foundation, and further exploring sonic effects, different rhythmic meters, and new possibilities on the two instruments.
J Rae: Are there any future plans to incorporate different instruments and/or players or just continue to stick to the piano/flute collaboration?
Robert Thies & Damjan Krajacic:
Damjan/Robert: We are open to collaboration and have explored it as an idea and in practice, but at the same time, we want to make sure that the music we share remains a true 'Blue Landscapes' feel. During the recording of our 2nd album, we spent an evening recording with a wonderful percussionist, Chris Wabich, and we loved some of the music we created with with him, but it ended up sounding too much like something else, and so we abandoned the idea of including those recordings as part of 'Blue Landscapes'. We still feel like there is much we can explore and add with only flute and piano, and this seems to be the way to go for us – it inspires and challenges us.
J Rae: Being that you both cherish this planet so much and all of its splendor, the Skope readers would like to know what are some of your favorite spots to visit and spend time in?
Robert Thies & Damjan Krajacic:
Damjan: To me, it would have to be spread out between two of the places I can call home – Croatia and California. In Croatia, it is definitely the beauty, serenity, and warmth of the Adriatic Sea. In California, for me, it is the majesty of its woods, rivers and lakes – from Lake Tahoe, to the Sierras and Yosemite, even though there is so much more.
Robert: To add to Damjan's list, I often reflect on my time in New Zealand, Switzerland, Austria, Germany, Colorado, Alaska, and national parks in the United States.
J Rae: Do you plan on continuing the 'Blue Landscapes' series and what can fans expect to hear next?
Robert Thies & Damjan Krajacic:
Damjan/Robert: Absolutely! We are just getting started! We feel like 'Blue Landscapes' has become a part of who we are, and love how it taps into a peaceful place in us. It helps us focus to create music that we can relate to musically and spiritually, and it gives us the confidence that we can give that sense of peace to others who seek it. We hope in future albums to explore even more of the color palette of our instruments, but also challenge ourselves compositionally to create material that stays true to our sound while exploring new "frontiers" at the same time.
J Rae: Ending on a positive note has become a regular addition to my Q&A features and being that you both have such a deep appreciation for the world around us, this is perfect! With that being said, what small steps can we take each day in helping to preserve nature and all of its natural wonders?
Robert Thies & Damjan Krajacic:
Damjan: I would say that the first step is just the realization that the world is not ours to take, but ours to share. Therefore, taking what we need and not what we can, and then finally giving back in a couple ways: by bringing attention to the immediate need to protect our planet, and then by doing our own part – recycling, conserving water, learning to consume less. Sometimes living more simply means living more fully.
Robert: I have always felt like nature was my sanctuary. It's important that we be respectful of this space, leave nothing behind (except art and love) and leave as little a footprint as we can. I think we'd be in a better place if we all thought more about how our choices and actions have consequences, whether it is what resources we consume or how we dispose of waste.
https://www.instagram.com/bluelandscapesmusic/
https://fanlink.to/BLIII-Frontiers
By Jimmy Rae (https://twitter.com/2JRae)