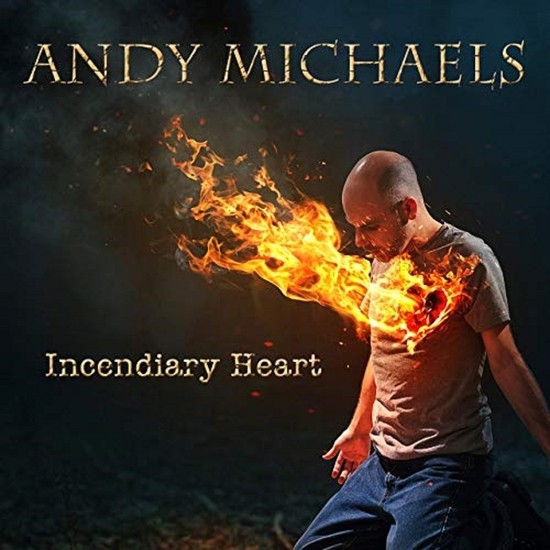 A palm-muted acoustic guitar riff slowly claws away at the darkness that precedes the opening verses of "Humming Bird," one of the songs you'll find on the new record from Andy Michaels, Incendiary Heart, and as it comes into focus alongside a midrange-heavy vocal from Michaels himself, the haunting harmony that ensues is hard to forget once you've heard it. Suddenly, the band comes to life and our singer is leading a colorful pop melody into the heavens with as much of an evocative spirit as he exudes in the similarly stylish "This Songs for You," affirming "Only Love Knows the Meaning of Goodbye" and simple Aussie folk-rocker "Rambling Man." Incendiary Heart is full of sonic twists like those in "Humming Bird," and it doesn't take more than a single look at its tracklist to fall in love with the man who gives it such luster.
Carolyn Thomas stops by for a swaggering piano pop/rock dirge in "Sticks and Stones" that anchors the latter half of the album with both lyrical prowess and instrumental wit, and while Tiarna Madison shows up for a duet with Michaels that is just as captivating (in some respects) in "Emerald Eyes" and the title track, there's something particularly charismatic about the piano harmony Thomas straddles beside our star's carefully-worded verses. "I Can Fly" is another poetic winner for Andy Michaels, though possibly not as much as the R.E.M.-influenced "Night and Day" is, and along with "The Flame (featuring Kerry Ironside)," it has a hook that gives me shivers every time I hear it.
DSP – https://open.spotify.com/album/20gQjKALuKHfuKQc7WldvJ
"Darling It Hurts," the lead single and music video from Incendiary Heart, is ironically one of the plainer songs on the LP, but when coupled with tracks like "Fireflies" and "Planet 8 (featuring Sharon Court)," I think it gives us a picture window into the multidimensional skills that Andy Michaels can exploit when there's nothing to stop his dreams from coming to fruition. He's wearing a lot of different hats in this album, and although there's a strong potential for his central theme to fracture amidst the more eccentric moments in the tracklist, it never happens because of one consistent reason – his honey-sweet vocal. As a singer, he knows how to be the linchpin when it counts the most, and as a songwriter, he knows what to express with his voice and what to communicate through instrumentation and a nuanced production.
Whether it's the heartfelt harmony of Michaels' vocal and the adjacent guitar in "Only Change Stays the Same" or the mild thrust of the beat in "Darling It Hurts," Incendiary Heart has got something to turn on the pop fan in all of us. Andy Michaels' sophomore LP is an unconventional, unapologetically melody-powered experience that surpasses its prequel by leaps and bounds where it matters, and though its fourteen songs arrive at a moment in the history of popular music that is more competitive than almost any other to come before it, they've got just enough crossover appeal to make an impact in this fast-paced era in pop/rock.
Loren Sperry