You have yourself a real songstress here with a poet's mindset and high-caliber material! Alpha Cat is her name and "Mockingbird" is her game that she performs flawlessly. The new single is full of colorful and vibrant notes showcasing Alpha Cat as a real-life "Mockingbird".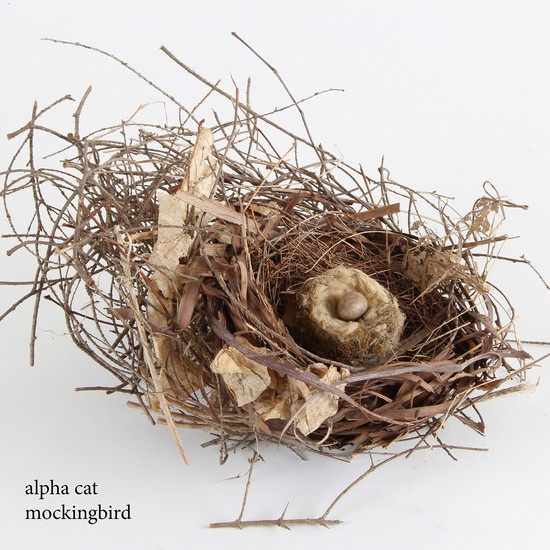 Alpha Cat is Elizabeth McCullough and her music lies within the Alternative Rock realm, but the artist exhibits a wide variety of styles. With influences such as: Dionne Warwick, Bob Newhart, the Beatles, Carole King, Motown, Led Zeppelin, Monty Python, David Bowie, Joni Mitchell, Neil Young, Tom Petty, the Cure, Prince, the Pretenders, Beck, Nirvana, and Buffy the Vampire Slayer, you get the point! "Mockingbird" is the featured single off of the new album titled 'Thatched Roof Glass House'. Released through Aquamarine Records, "Mockingbird" is staged to be an instant classic in the Indie world.
The single offers the listener so much with Alpha Cat clawing her way through the track in harmonious fashion. The lyrics on "Mockingbird" highlight Alpha Cat as a true singer/songwriter with plenty on her mind. The song contains heavy substance and real truth as you sit, listen and sink your teeth into the meat and potatoes. The flavor is refined and the taste is superb as one will pick up on intoxicating vocals and an entrancing beat. "Mockingbird" is soaring high as Alpha Cat has a way of singing and playing that immediately peaks your interests. This level of interest is contained throughout the entirety of the track with one catchy melody and smart arrangement. "Mockingbird" is super original and Alpha Cat has got charisma that shines through in her music.
I feel this Alpha Cat is just scratching the surface because there is untapped potential that is just waiting to pour out! If "Mockingbird" is any indication of what is yet to come, then I can't wait to hear what's next from the poetic songbird. I leave you with something to chew on and Alpha Cat's words herself: "Throwing stones through the Thatched Roof Glass House windows of your preconceptions about music." Simmer on that, but get ready for Alpha Cat to pounce onto the music scene with "Mockingbird"…Time to Fly!
https://www.facebook.com/alphacatband/
By Jimmy Rae (https://twitter.com/2JRae)