In recognition of Black History Month in February and President Gerald R. Ford's efforts dignifying the contributions of African Americans, the Gerald R. Ford Presidential Museum is hosting an exhibit by nationally-acclaimed artist Brian Washington, beginning Feb. 20.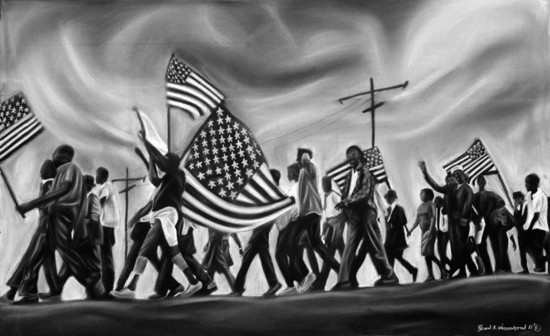 Washington's "The Continual Struggle: The American Freedom Movement and the Seeds of Social Change," is an ongoing body of artwork documenting the Civil Rights Movement and America's historical struggle against segregation and other forms of race-based injunctions. The 23-piece exhibit vividly recalls a time when people were willing to go into the streets to protest injustice and inequality, according to the artist's website.
"With this exhibit, I hope to elicit the raw emotions from the atrocities African Americans struggled with in years past and bring them to the forefront in today's cultural lessons," Washington said. "I want people who see 'The Cultural Struggle' to come away with a renewed sense of empathy and humility for those who came before us."
https://www.fordlibrarymuseum.gov/
Brian Washington's "The Continual Struggle" at the Gerald R. Presidential Museum is made possible through collaborative efforts with Fifth Third Bank, the Frey Foundation and the Gerald R. Ford Presidential Foundation. "The Continual Struggle" will be on display Feb. 20-May 31. In honor of Black History Month, the Gerald R. Ford Presidential Museum will be free to public on Feb. 22-23, and Feb.29-March 1.