With the different pools and attractions and numerous must-try activities they offer, a waterpark is the perfect destination for a quick getaway.
The fact that an aqua park can give all guests of any age a variety of ways to cool down and have fun or relax at the same time makes it an easy choice for any family wishing to escape the scorching temperatures.
But before you and your family can enjoy all the waterpark activities and amenities, it is crucial that you know and follow the most important tips for staying safe in an aqua park. By doing so, you will ensure everyone has fun on this getaway.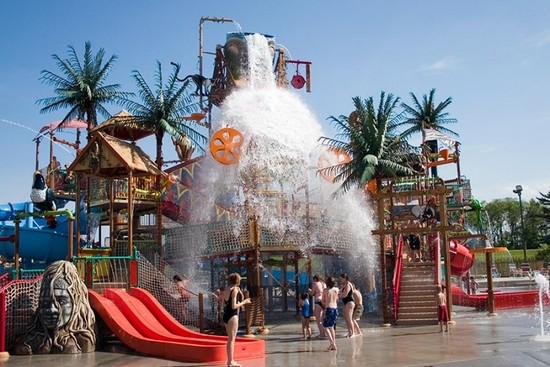 More importantly, you will help everyone reduce the risks of being involved in mishaps or getting injured — things that can put a damper on your day of fun and relaxation.
In some instances, the consequences of these unfortunate incidents can be time-consuming and stressful, not to mention costly as well.
Below are some tips you have to follow to keep your family safe during a visit to a waterpark:
Go over the park rules with the whole family beforehand
Whether it's your family's first time to visit a particular waterpark or you are all going to your favorite one, read or re-read their rules, particularly the ones related to safety.
Have your kids read and understand them or explain them clearly to your younger children as well.
Keep in mind that each waterpark has a different set of rules. They have various types of pools, slides, and rides that are suitable only for certain ages. These features have specific height requirements, safety procedures, and health precautions posted.
Everyone should know and understand these rules. Explain clearly to younger children why certain pools or rides may not be best suited for their safety and swimming ability.
Load up on sunscreen
To combat sunburn (which can happen to anyone who stays out too long under the sun) and help others avoid it, make sure you have plenty of sunscreen at hand.
Apply waterproof sunscreen all over your body, paying special attention to parts that will be exposed to the sun (such as the face, neck, and nape) at least 30 minutes before arriving at the waterpark. Have everyone in your family do this as well. Reapply it throughout the day based on the product's instructions for use.
Make sure you bring at least three bottles of sunscreen to avoid running out of this must-have protective item.
As an additional tip, have everyone apply a lip balm with SPF 15 or higher while in the park. This will help protect the lips from the water and the harsh effects of the sun.
Choose the right outfits and swimwear
Bathing suits and other types of swimwear are the ideal outfits for a day at a waterpark. However, rash guards are also excellent options since they offer additional protection from the sun.
If the sun is particularly strong, have everyone wear wide-brimmed hats and sunglasses whenever they are out of the pool. These accessories will help prevent sunburn and heatstroke and protect the eyes from harmful UVA and UVB rays.
Additionally, consider having everyone wear aqua shoes while in the waterpark. They can protect the feet from the scorching pavements, slippery areas, and sharp objects on the ground.
Lastly, make sure you bring plenty of warm and dry clothes that your kids can wear when they spend several minutes out of the pool for a snack break or lunch and the ride home.
Have younger kids use floaties or life vests
Give inexperienced young swimmers or children who can't swim floaties and life vests and make sure they wear them whenever they are in a pool. These flotation devices will ensure they stay afloat on water.
Floaties or life vests will also help your kids bob back up after a ride on a fast water slide.
However, even if they have these devices, always keep an eye on your children. Stay a short distance away from them and be on the lookout for any possible incident.
Keep younger kids in shallow areas of the pool or child-friendly water playgrounds
Large swimming pools and other areas have varying water depth levels. Whether your little ones know how to swim or not, make sure they stay in the shallow play sections.
Additionally, most waterparks have specially designed areas or aquatic playgrounds with zero or low water depth levels with sprays, fountains, and small slides. These places are better suited and safer for toddlers and preschoolers.
Following this simple tip will keep your younger kids safe at all times. You will have an easier time looking after them as well.
Make sure everyone stays hydrated
Prolonged exposure to the sun and playing in the water all day can put the body in a state of dehydration.
Giving your kids plenty of water and natural fruit juices or smoothies to drink will help them avoid getting dehydrated.
If they love to drink sodas and juices that contain high amounts of artificial sweeteners, limit their intake of these beverages. This is because caffeine and sugar can contribute to faster dehydration.
Remind your family to take frequent breaks
It can be easy to lose track of time when you are at a waterpark. But as a parent, it's your responsibility to call your kids over to get a few minutes of rest, sip water, and eat a snack.
Keep in mind that you can put your children at risk when they get too tired, cold, exposed to the sun, and far from safety. If you notice that your children already look tired or that they have been out in the pool for too long, let them take a break in a covered area.
Make sure you are ready with something to drink or eat during these breaks so that your kids won't get bored immediately. Don't forget to have them reapply sunscreen as well.
Always keep an eye on your kids
Although you also need to get some "me" time during your waterpark getaway, you need to look after all your kids, even the older ones, at all times. You also have to be constantly vigilant.
Even if waterparks have lifeguards on duty, their main responsibility is to scan large areas and, as such, may not be able to spot an accident as quickly as you could if you are keeping an eye on your kids.
If you want to try the large slides or rides, have your spouse or another one of your adult companions look after your kids.
Since waterparks can be as fun as recreational and edutainment centers, or even more so, everyone tends to be more relaxed. However, if you are spending the day here with your family, you need to be on your guard all the time if you want your loved ones to stay safe throughout your stay.