The gnaw of a simple melody awakens chill-inducing textures as we sift through the sonic soil of "Wrinkle." In "Improvisation," this same melody has been modified to resemble the swell of an ocean wave, while in "Ad-Lib," it's a ghost in the night, almost translucent to the average onlooker. There is no escaping the effervescent tonalities of "Concoction" when they're all around us at the 5:40 mark of the track, just as the same can be said for the climactic moments in "Soundscape," "Extemporization" and tour de force "Creation." Though best characterized by is softer moments (such as "Invention"), Ian C. Bouras and Dion Abraham's Refractions of Sound is an advanced look into the future of a bigger and bolder ambient music as seen from the perspective of two collaborators deep in the trenches of its burgeoning underground. Since the release of Lou Reed's critically profound (but commercially-reviled) Metal Machine Music so many years ago, experimentalists like Bouras and Abraham have been trying to concoct the perfect blend of noise and noir-like harmonies, and though Refractions of Sound might not be the most powerful avant-garde record of 2019, it is definitely a release from one of the year's most promising collaborative duos.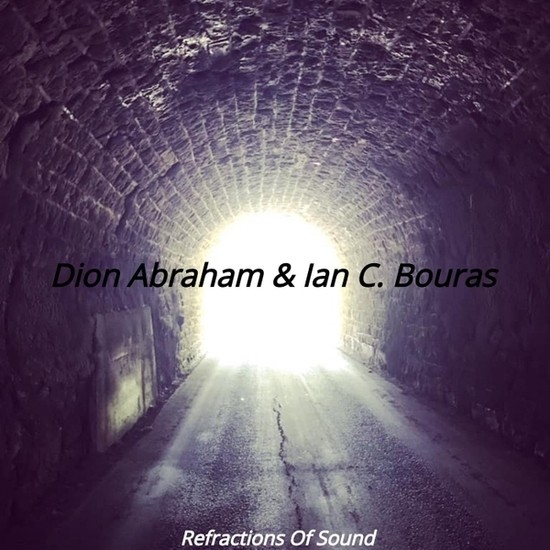 The first half of this LP emphasizes contrast above everything else. "Ad-Lib," "Invention" and "Extemporization" never quite devolve into a sludgy mess of bass and midrange distortion, but there's an underlying dirtiness to their melodies that is utterly divine, particularly as we reach the powerful middle-portion of Refractions of Sound.
AMAZON: https://www.amazon.com/Refractions-Sound-Bouras-Dion-Abraham/dp/B082DRDT64
Though the entirety of this piece was recorded in an improvisational setting, "Improvisation" is the only track here that feels like something unprepared in every way, shape and form. From the start of the album forward, the sharp curves (or, occasionally, the lack thereof) that we find from song to song make everything sound as though it were carefully plotted out before Ian C. Bouras and Dion Abraham ever got into the studio, but not to the point of the music ever sounding like it was robotically produced by artists with more interest in meeting a deadline than actually expressing something to each other, and moreover, the world at large.
If Refractions of Sound's eight songs are any sort of indication as to what we can expect to hear out of the Bouras and Abraham camps in the future, I can't wait to hear what either party comes up with on their own or together in the 2020's. This is the fifth official studio album that we've seen from Ian C. Bouras to date – preceded by Absence (Live Looping) (2017), Pieces of the Past (2015), Two Sides to Every Sunset (2014) and The Certainty of Being Found (2009) – and while it's the first time he's shared the recording space with a collaborating partner, I can see it being the gateway to an entirely new aspect of his sound as a performer, improviser, experimenter and producer. Dion Abraham definitely brought his A-game to these sessions, and if the connection that the pairing has here can be replicated in another album, I would love the opportunity to review it as well.
Gwen Waggoner