Today's market has thousands of mattresses claiming to be the best. From latex and organic mattress options to in-store and online vendors, there are plenty of products to choose from.
Finding the right Queen Mattress is a matter of personal preference. However, there are key elements you should pay attention to as you look to invest in your next mattress. 
Below, our experts explain why you should consider not just the different types of mattresses and their firmness levels, but also your preferred sleeping position, weight and budget.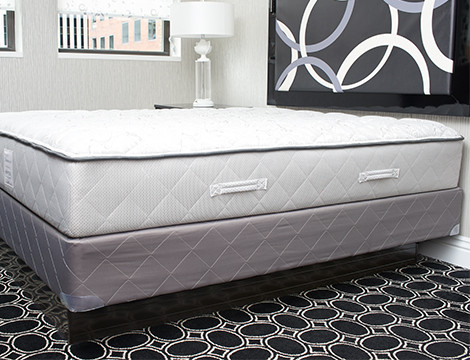 What type of mattress do you prefer?
The majority of mattresses can be classified as one of several types. These are:
Coil

: Coil, also referred to as innerspring, mattresses are some of the oldest and most popular models available today. These mattresses have at least one layer of coils, typically made of steel, that support the body while you sleep. While manufacturers vary the number, type, and layer of coils – these mattresses are often the most budget friendly options. Coil mattresses offer great bounce, strong edge support and are often cooler than other styles of beds. Quality coil beds have been known to last at least 8 years before needing to be replaced. 

Hybrid

: Hybrid mattresses often contain two or more different layers of various types of mattresses. For example, the base may be made up of a coil layer, topped with memory foam, with a latex layer above that. If you are torn between the structural support of a coil mattress, love the pillow feel of memory foam, but want the cooler latex material, a hybrid offers the best of all worlds. Hybrids may come with a variety of materials, however, they should be expected to last at least 10 years. 

Latex

: Latex is known for remaining cool, despite surrounding temperatures. Latex mattresses are known for being responsive and cool, providing great bounce and a comfortable sleep. Great for those who sleep hot, latex mattresses provide a comfortable sleep without the heat created with a memory foam mattress. A latex mattress should last at least 12 years before needing to be replaced. 

Organic

:

Organic mattresses

are made using certified organic materials including cotton, wool, and natural latex from a rubber tree. These mattresses are more eco-friendly and because they're natural, they don't have any off-gassing or harmful chemicals you might inhale while you sleep. This in-depth review breaks down the best organic mattresses made with all-natural materials.

Adjustable

: As suggested by the name, these products offer sleepers the ability to change the position of their mattress. Most often, this involves the lifting of the foot area and ability to incline the back portion. However, some also include features such as heat, vibration or massage functions. Adjustable beds are best for those with special needs. They are also ideal for those with chronic lower pain, snoring issues, age-related mobility problems and medical conditions. 

Memory Foam

: Known primarily for their body contouring capabilities, memory foam mattresses offer great support and pressure relief. Memory foam comes in a wide array of materials; some include cooling gels that help reduce the heat the foam holds onto. Memory foam mattresses typically last 10 years. 
Regardless of the type of mattress you choose, be sure that it has the right quality certifications like Greenguard and OEKO-TEX® Standard 100 Certification to ensure there's no toxic materials in your next mattress.
What's your desired level of firmness?
Firmness refers to how hard or soft a mattress is. This is a subjective measurement. When buying online, make sure you check return policies just in case their definition of "firm" or "soft" does not align with yours. 
Typically, firmness is indicated through a rating system, with 1 being extremely soft and 10 being the firmest. On average, sleepers tend to prefer mattresses that fall between 4 and 7 on this scale, which is what most stores will carry. So the most comfortable mattress is a subjective opinion, based largely on how you sleep…
What's your primary sleeping position?
The position you sleep in also affects which type of mattress, as well as the firmness rating, is best for you. Positions include:
Back

: For back sleepers, the appropriate support needs to include a combination of soft and firm. This is because the proper alignment of your spine is essential to a restful sleep. If a mattress is too firm, it will not allow your spine to sit appropriately. Back sleepers tend to prefer mattresses with a firmness rating between 4 and 7.

Side

: Side sleepers tend to be the ones who move the most as they sleep. From rotating sides to bending knees, straightening legs, and other such things – side sleepers need a mattress that accommodates changes. Side sleepers also have the most contour when they lay and need a softer mattress to allow for the proper alignment of their spine. Side sleepers tend to favor mattresses with a 3 to 6 firmness rating. 

Stomach

: Stomach sleepers tend to favor firmer mattresses. This is because stomach sleeping is the flattest of the sleep positions. Due to this, stomach sleepers often prefer mattresses with a 4 to 8 firmness rating. Remember, the firmer the mattress, the less contour you get. If you are not overly curvy in the front, you will likely find the firmer mattresses to be most comfortable as a stomach sleeper. 
How much do you weigh?
Weight also plays a role in the mattress you will prefer. The heavier you are, the more likely you will sink deeper into your mattress, making ratings even more subjective. For those who tend to sleep hot, it is important to remember that the deeper you sink into a mattress, the more the contour will retain heat depending on the type of mattress.
What's your budget? 
Everyone's budget is personal. Most quality queen or king mattresses will cost be $800 and $1500. While there are mattresses that come cheaper, these tend to have a very limited lifespan and often fail within a few years. Since most quality mattresses are expected to last between 8 and 10 years, it is unwise to invest in a cheaper mattress that will need to be replaced in just 2 to 3 years.