This was the second time seeing this wonderful production, but this marks the first time reviewing Moscow Ballet's Great Russian Nutcracker.  I am honored to get a chance to witness this amazing spectacle and to provide a thoughtful & precise critique of this one-of-a-kind event.  Ringling Bros. and Barnum & Bailey Circus was dubbed as "The Greatest Show on Earth" and I feel Moscow Ballet's Great Russian Nutcracker can stake a claim to that title in this present day.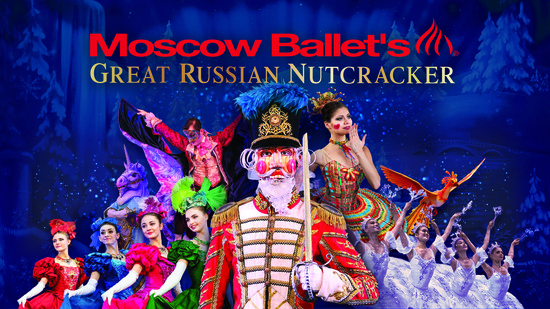 Moscow Ballet's Great Russian Nutcracker was performed live at Murat Theatre at Old National Centre on December 04, 2019 in Indianapolis, Indiana.  My wife and I were blown away the first time around and once again we are over the moon while witnessing this phenomenal show.  Moscow Ballet's Great Russian Nutcracker has become a holiday tradition for many, which is why this tour is hitting more than 140 cities in the U.S. and Canada from November 01 through December 30, 2019.  This marks the 27th annual North American tour of Moscow Ballet's Great Russian Nutcracker and I feel this production will continue to WOW audiences everywhere for many years to come!
Following Tchaikovsky's complete "Nutcracker Suite" score, the unforgettable compositions will be ringing in your ears for hours on end.  Moscow Ballet's Great Russian Nutcracker certainly wouldn't be the same without the classic music of Tchaikovsky syncing up with each scene.  With two acts, the story follows Masha and Nutcracker Prince through enchanted lands full of wonder.  Your imagination will be running wild as you sit back and enjoy the splendor of Acts I & II.  Act I brings to life plenty of dolls and one puppet show for the ages courtesy of the character Uncle Drosselmeyer.  Masha then dreams of a battle between her Nutcracker Prince and the Rat King as she ventures into a magical Snow Forest complete with a magnificent Russian-themed, 3-pointed Troika Sleigh.  Act II invites fans into the Land of Peace and Harmony where five different cultures are highlighted: Chinese, Arabian, French, Spanish & Russian Variations.  I truly loved this part of the show because the cast gives the audience a taste of International pizzazz by emphasizing different heritages around the globe.  The symbolism here is impeccable with the dove representing worldwide peace, the Chinese Firebird soaring for great Prosperity, the Arabian Elephant stomping with Wisdom, the French Unicorn representing Imagination, the Spanish Bull being bold and Daring and the Russian Bear standing tall with Strength.  All of these elements and themes blend together perfectly in harmonious fashion.  The show comes to a close with the "Waltz of the Flowers", and literally "Joy To The World" for friends old and new.
I have to point out that the designs and props were absolutely vivid and just a visually stunning set to say the least.  My eyes were constantly moving from left to right to center with so many bright colors popping out.  I have to say that the entire cast was top-notch and highly skilled in every aspect.  The athleticism displayed by the dancers was a sight to behold and they all have my utmost respect.  The dancing and acting was A+ with the entire cast giving their all and giving their absolute best performances.  I can't leave without mentioning the spectacular performances by all of the talented youngsters—BRAVO!  Thanks to a program called "Dance With Us" in Indianapolis, students from ages six-18 years old had the golden opportunity to perform their ancillary roles of Party Children, Snowflakes, Mice, Snow Maidens and Variation Dancers  on Wednesday, December 4, 7 p.m. at Murat Theatre at Old National Center.  These students should be very proud of themselves as they all did a bang-up job overall and left lasting impressions with the Indy audience.  My wife and I were very pleased with the whole production of Moscow Ballet's Great Russian Nutcracker and I highly recommend this show to anyone out there.  For my wife and I, the Christmas/Holiday season isn't complete until we take in Moscow Ballet's Great Russian Nutcracker.  Bring friends and loved ones young and old; your party will not regret this Show For All Ages!  Moscow Ballet's Great Russian Nutcracker deserves nothing less than a Standing Ovation and round of applause for all of their hard work and dedication.  Here's to another successful run heading into 2020 and Cheers to Great Russian Nutcracker!
Merry Christmas and Happy Holidays!