Lynne Taylor is showing off her 'Shades of Blue' in all its glory on the brand new release.  This Massachusetts-based artist has come out with an album that is like a musical buffet of enticing melodies, notes, lyrics & vocals.  Lynne Taylor is an accomplished vocalist & pianist who writes & sings straight from the heart.  Lynne is joined by many esteemed guests on 'Shades of Blue' including: Ed Passarella on bass, Scott Solsky on guitar, Charlie Farr on drums/percussion, acoustic guitar & steel guitar, Kristen Miller on cello, Cameron Smith-Rappoport on violin, Chuck Melchin on mandolin, Kristine Malpica on Cajon, Meg Rayne & Lisah Plumley on harmony vocals and Lucian Parkin on whistling.  The record was recorded and mixed by Chet Woods at Hovel Studio that took 1 full year to complete  and 'Shades of Blue' was mastered by Dave Locke at JP Masters.  All songs were written by Lynne Taylor except "Shades of Blue" that was co-written by Charlie Farr.  Together, these fine musicians have created music that reflects a wide range of emotions from A-Z.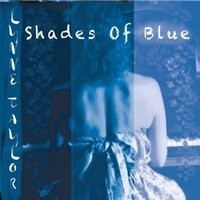 On the opening number and title track, one will hear a slow 'n' steady fashion with strong vocals and solid instrumentation.  "Shades of Blue" is simple yet profound offering the listener a fully satisfying song.  Next up is "Blood Moon" that contains a somber melody and haunting mood where Lynne is digging deep, which is sensitive to the core.  Track three, "Not Dead Yet", is one hard-hitting song with a powerful message about addiction and overdose, and its deadly effects.  Moving along, we go more upbeat on "Coulda Been"that has a fun, happy-go-lucky vibe with warming words about an aging parent and forgiveness.  Track five, "Ghosts of Antietam", is orchestrated wonderfully touching on the wrongs of society then and now.  This song is melodic to the bone and sticks to your soul by way of Lynne Taylor's poignant tone.  On "The Disguise", Lynne is completely exposing her innermost feelings and tearing away the unnecessary mask.  She is stressing on this song to just let it be and be your true self no matter how much it may sting.  "The Disguise" is about releasing the pain once and for all and to come out of your shell for all to see.  On track eight, "Autumn", all of the rich notes are falling from the vast, musical tree.  The roots are vibrant to go along with a robust flavor on "Autumn"where the sense of a cool breeze will rush over your ears while warming your heart.  The lyrics "We all just need love" sum up the main theme on this song giving the listener a promising sensation.  The closing number, "Grace", is an inspirational finish full of hope with a strong line in the song that reads: "Only grace can save us".
It comes as no surprise to me to discover that Lynne Taylor was a 2017 finalist in both the Mid-Atlantic Song Contest and the Philadelphia Songwriters Project Songwriting Competition along with being a 2019 New England Music Award Nominee.  Her songs speak volumes about personal and socially conscious matters, which in turn strike a major chord with audiences everywhere.  Lynne Taylor is a passionate singer/songwriter and pianist with a lot on her mind and 'Shades of Blue'portrays all of the highs & lows in perfect symmetry.
https://www.lynnetaylormusic.com/
By Jimmy Rae (https://twitter.com/2JRae)