"I'm known to cause a frenzy," raps Cam'ron in the swaggering second verse of "Believe In Flee," his latest single. It's no idle boast. With impeccable flair and preternatural balance, Cam'ron has long straddled the glamorous hip-hop mainstream and the turbulent underground. He's the rare rapper who's got it all: style, flash, microphone skills, lyricism, wit, fashion sense, camera presence, daring, good humor. The cognoscenti follow him, his peers respect him, and the fans in the clubs can't get enough of him. The Harlem emcee has made his mark as the leader of the influential Diplomats, a solo artist, a film star, and a bold visual trendsetter. Killa Cam's outrageous outfits and colorful videos transformed the public perception of what a rapper could look and act like, and, in so doing, loosened up a genre that had grown terribly serious.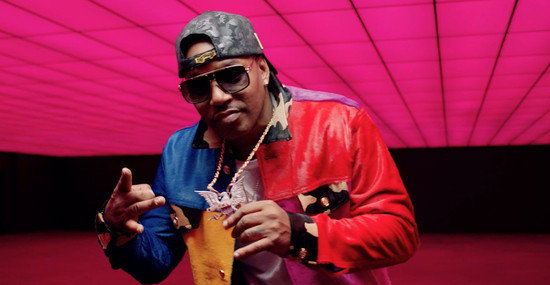 Along the way, Cam'ron collaborated with the biggest names in hip-hop: Kanye West, Nicki Minaj, Wiz Khalifa, Lil Wayne, too many others to name. But he's always kept his ear to the streets, supported young artists, and represented urban New York to the fullest. The upcoming Purple Haze 2, a sequel to one of his best-loved sets, will be his first proper studio solo album since the chart-topping and critically acclaimed Crime Pays in 2009. But he's hardly been out of the public eye since then. He's appeared in several feature films and television programs; he's released scalding mixtapes; and, with the 1st Of The Month EPs that he's released in conjunction with his web series, he's pioneered innovative marketing strategies that other rappers have emulated. No wonder, then, that "Believe In Flee" finds Cam'ron in rare form: he's been training for this day for more than a decade.
To create a video suitable for such an entertaining track, Cam'ron has turned to a frequent collaborator: the accomplished filmmaker Clifton Bell, who has made clips for Jadakiss, J.Cole, Swizz Beatz, Jim Jones, and other prominent rappers. Bell may not be as famous as any member of the Dipset, but he's as responsible as anybody for the visual signature of modern New York hip-hop. His clip for "Believe In Flee" is classic Bell – everybody looks tremendously stylish, poised, and composed, and not an ounce of that energy is wasted. Instead, Bell has tricked out the set so that it looks like Cam'ron is steadily and unhurriedly advancing toward the camera and the audience, without a pause, a break, or a stumble. As a visual metaphor for the rapper's career, that's hard to beat.