We kick off December with an awesome Q&A from – Chris McCarthy and Clotilde Duo. With this duet, French vocalist, flutist and filmmaker Clotilde and acclaimed American keyboardist Chris McCarthy deepen their New-York born collaboration. Catch them live in NYC in 2 days –
On December 3 at 8pm, Abby London Crawford presents Clotilde and Chris Maccarthy in concert at Black Box Theater, 244 Rehearsal Studios in New York City – Tickets: $20.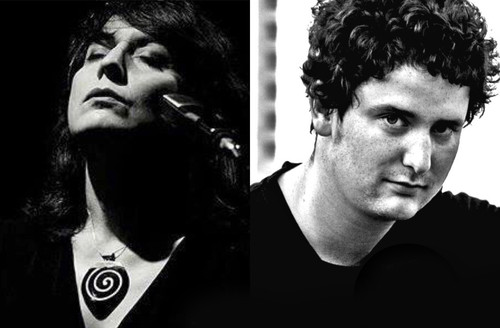 When did you first know you wanted to become a musical artist? What was the first song you ever wrote?
Chris McCarthy: I started at 10 and recorded an album. I wrote my first song after my first piano lesson cause my teacher told me to write something using only the black notes.
Clotilde: I started at 5. I was to small to play the flute which I wanted, so I had to spend a year doing only solfege. I wrote my first song when I was probably 7 or 8, we were writing « musical comedies » during summer with my sister and cousin.
Who are some of your top 5 musical influences?
Chris McCarthy: Stevie Wonder, Ahmad Jamal, Bach, Prince, McCoy Tyner
Clotilde: Gabriel Fauré, Stevie Wonder, The Beatles, The Great American song book, Meredith Monk
What's in your IPOD this week?
Chris McCarthy: Earl Sweatshirt, Sonny Rollins, Bon Iver, Professor Longhair
Clotilde: Jeanne Lee, Robert Wyatt, Kendrick Lamar, Farafina, Satie
How's the music scene in your locale?
Chris McCarthy: I'm based in Brooklyn, and the scene is as vibrant as you would imagine, with all types of music happening around the city every night of the week.
Clotilde: I'm French, based between NYC and Paris. I'd say they are 2 quite dynamic scenes, where you can listen to any kind of music.
What do you like most about playing live?
Chris McCarthy: What Clotilde said!
Clotilde: the interaction with the audience, taking risks, improvisation, finding the same breathing with the musicians
Is there a song on your latest CD release here that stands out as your personal favorite, and why?
Chris McCarthy: My new album coming out in April is all original material, and this is my first release to feature only originals.
Clotilde : My latest release is mainly covers of the great American female protest singers. I guess one of my favorite one is the cover we did from Save the Children (by marvin Gaye) inspired from Marlena Shaw's version. I like the twisted ending we added, and also the lyrics are still so accurate and resonating.
What's the best concert you've been to?
Chris McCarthy: I saw Bon Iver in Brooklyn last month and was blown away, that was my favorite show of this year.
Clotilde: That's a two hard question to be answered to. ha!
If you could meet, play a gig, co-write a song, have dinner, have a drink with any band or artist (dead or alive) who would it be?
Chris McCarthy: Prince.
Clotilde: Nina Simone or Jeanne Lee or Meredith Monk. I will actually attend to one of her workshops early December! A dream come true!
What are your goals for the future?
Chris McCarthy: To travel the world playing creative music that inspires others.
Clotilde: What Chris said! Yeah, always being more creative, explore different art forms, have no limit in
https://clotilderullaud.bandcamp.com/