International Orange stands by the motto: "Guitar driven musical sunshine dancing to a global beat". This band certainly has an international flavor due to the exotic rhythms that can be linked to countries such as: Brazil, Africa and India. With elements of jazz & funk heavily in place, I.O. is barking up the right tree with their latest album titled 'A Man And His Dog'.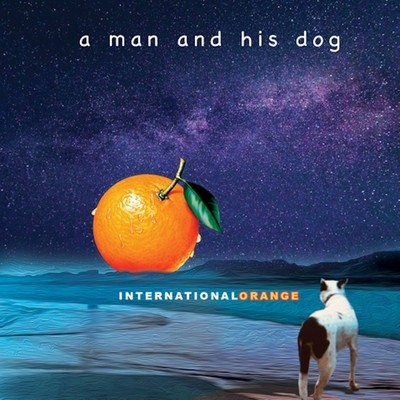 The group is comprised of four members: David Phelps on guitar & vocals, Todd Isler on drums & percussion, Leo Traversa on bass and Adam Morrison on keyboards. David Phelps and Todd Isler are responsible for starting up International Orange, so prepare your palette for a musical explosion. The NYC-based band offers plenty of flavor on 'A Man And His Dog' that is bursting with colorful notes. This album offers the listener a wide range of audio that covers a large spectrum of infused styles.
The record starts up with a song called "Keep The Blue Side" that contains a magnificent melody that is catchy beyond measure. Flowing along into the next track, "Olinda", one will pick up on a richness that can't be denied. Enter a stress-free zone on "How I Learned Not To Worry" where you can just leave your worries/troubles at the door. Track four, "Sookie's Rhumba", will have you dancin' and tappin' for days and continue to get your groove on with "Freight Liner" that is a peppy, jazzed-up and finger-snappin' number. On the song, "Maracuja" a strong bass line is in place that is simply on fire. Track seven, "Sirabhorn", provides a melody that moves ever so softly with added punch and then turn around and get hit with electric mojo at a feverish pace on "Strut Orange". "The Penguin" marches on with out-of-this-world sounds & effects and then get ready for a super slick beat that is cool as ice on "First Principle". The final installment is called "Gaku" and what a sweet sentiment and friendly finish this is.
The vitality of International Orange is off the charts as this band is full of spirit. 'A Man And His Dog' is primarily an acoustic album that doesn't disappoint. I really enjoyed the jazz fusion influence on this record along with the funk grooves proving that I.O. is multi-dimensional. The international twist on the recordings can be heard loud & clear with International Orange serving up the global goods. 'A Man And His Dog' is a wonderful album full of character and drive. I'd keep my eye on International Orange because there is a unique factor and instant appeal given off by the band. International Orange is enjoying the fruits of their labor, so now go and take a BIG bite out of 'A Man And His Dog' and fetch a copy for yourself.
http://www.internationalorangeband.com/
By Jimmy Rae/Jrae23