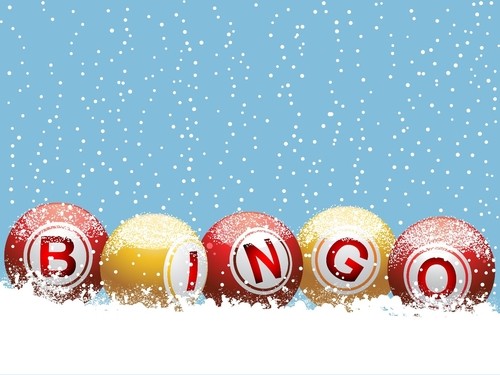 The festive season is drawing near. For many, it's a time for relaxation and recuperation, spent with family and loved ones, and for indulgence. Maybe you're taking some time off to finally read that book that's been sat on your bedside table all year or to play online bingo on your electronic device. Whether you enjoy spending the Christmas period watching TV specials and festive films, playing games or puzzles or simply taking in a winter walk, Bingo is a Christmas tradition in many cultures. We've come up with three different Bingo games you need to play.
Walking in a Winter Wonderland
For many, the Christmas Eve or Boxing Day walk is a tradition: the crispness in the air, the flora and fauna that can be spotted – not to mention the decorations from house to house. Take this list with you and much like Bingo, the first person to get a full house is the winner.
Spot a Christmas wreath on a front door
See or hear a robin in a tree
A 'Santa Stop Here' sign in someone's front garden
Frost on the pavement/on the branches of a tree
A dog walker with a dog wearing a Christmas jumper, or with a bell on its collar
A lake or pond that has frozen over
Any kind of bush with red berries
Frosted spider webs on gates or fences
Spot any of the following wildlife: deer, swans, geese or hedgehogs
Pine cones or conkers amongst the fallen leaves
Footprints in the snow (if it's been snowing)
The remnants of a snowman/snow angel
Holly and/or ivy
Festive lights in the window of a house
Another family on a festive walk!
Festive food & drink
Let's be honest, the best part about the festive season is the food & drink – the luxurious goods, the limited-edition specials and pretty much everything about a Christmas Day dinner with all the trimmings. How many of these delights can you get through?
Pigs in blankets – bonus point if they are homemade
Mince pies and brandy butter
Hot chocolate with whipped cream and marshmallows
Gingerbread house – bonus point if it's not pre-bought
Candy canes or chocolate tree decorations
Stuffing balls
All the snacks: cheeselets/treeselets, twiglets, cheese footballs and pringles
Savoury Christmas wreath/plait
Glazed ham and pickles
Smoked salmon
Family Circle boxes of biscuits
Any flavour of Baileys
Port and cheese course
Mulled wine/cider
Buck's Fizz
Must-see movies
Christmas films are always popular. The same ones are on TV every year and if you're subscribed to Amazon Prime or Netflix you'll be spoilt for choice. A quick online search will bring up Christmas film bingo cards and checklists for you to play along with. But here are some of the favourites.
It's a Wonderful Life (1946)
National Lampoon's Christmas Vacation (1989)
A Christmas Story (1983)
Home Alone (1990)
Scrooged (1988)
Miracle on 34th Street (1947)
Bad Santa (2003)
A Christmas Carol (2009)
Elf (2003)
Meet Me in St. Louis (1944)
How the Grinch Stole Christmas (2000)
The Holiday (2006)
Love Actually (2003)
The Santa Clause (1994)
Deck the Halls (2006)
Happy Holidays and a Happy New Year to all!