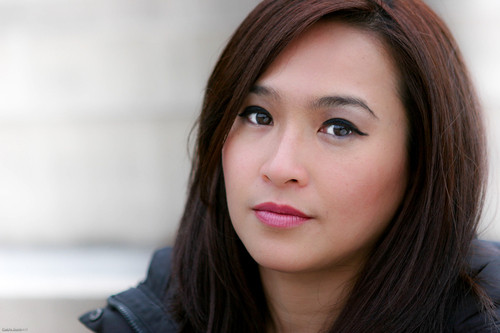 Here is an actress who not only took the plunge to come to America from far off exotic Indonesia but has managed to succeed. Fenny came to New York almost 9 years ago and has entertained audiences with every show she takes part in. Comedy seems to be her "bread and butter" and it is evident with such performances like "The Fat Suit" a hilarious play or the Off-Broadway Show "The Procedure". She has become a sought after actress who has clearly an established talent.
The Stella Adler Studio is where she honed her acting skills and it is evident the knowledge she garnered with her every performance. In one of her earlier pieces entitled "Brad Pitt" written by a well-known writer Michael Long, she plays the character Trudy who believed she met her celebrity crush in a hotel gym in Vegas, she announces to her husband that she plans to use her hall pass to sleep with him. But that never happens because she loves her husband and turns out it's not really Pitt at all. It was shown at The Players Theatre Short Play Festival and won an Audience Award for Best Play. Fenny also took a stab at TV in a series called "Thru 25" and a short "Specials" yet she admits that theatre is where her heart is.
"There is a rush that you feel on stage that you don't get in front of a camera. It is at times terrifying but a good terrifying."
Also earlier in her career she produced a play called "Criminal Heart" which was written by Jane Martin. She played the lead role as Ata — an agoraphobic woman who just got dumped by her husband. This play and the previous "The Procedure" she admitted to be challenging roles. The acting game is a difficult playing field and Fenny has proven to have accomplished whatever came her way.
So far she has taken part in a lot of different productions and her acting calendar is booked up for the next few years. There are not many actors who manage to reach the peak she has, however, her natural talent meshed with her education and training have made her a sought after actress in the vast pool of talent out there. At the moment she is gearing up for a few productions in 2020. Her own project "The C-Word" is due to go into production in the following year and she is more than excited to bring it to the stage.
"It was fun to write and at first I was not going to act in it. But after watching it in the audience and bursting out laughing I decided to act in it for the next production. I am sure people will enjoy it when it comes out next year."
https://www.facebook.com/fenny.novyane/
Fenny is not a newbie to the acting scene and has become a regular on the theatre circuit. She is one of the many Asian actresses that are establishing themselves in the entertainment industry every chance she gets.
by Nick Christophers