West of Corey is a band consisting of Corey, the group's lead guitarist, bassist West and a female singer Janie. Slammed is an album filled with mainstream (leaning towards classic) hard rock. Corey is a rock veteran, having played in the bands 73 Paces and Slow Burning Car, with a full 30 years of experience. He lists Dokken, Van Halen, Metallica and Stryper as primary musical influences. Vocalist, Janie, however, points to Cat Stevens and Jim Croce as inspirations, as well as the more obvious AC/DC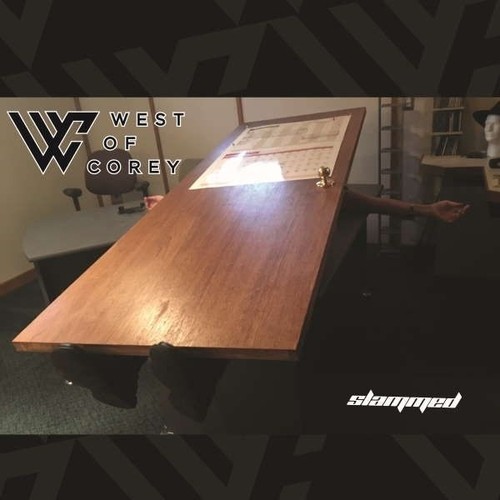 While 'plugged in' music describes most of these twelve songs, "Halfway to Walker," reveals a quieter, more meditative side of the act. This song features a nostalgic lyric, which hearkens back to a simpler time. Or, as they describe it, "when life was less confusing." If we live long enough, all of us will eventually recall a much simpler life. While childhood sure seemed complicated at the time, and those teen years even more so, adulthood brings on all the reality of life's complications; complications we may have been shielded from as young people. This track is a long one, at 5:01, and takes its time contemplating younger days. "Silent Dove" is another softer entry. It begins with just guitar and vocal, without drums or bass. It starts with a moody, airy instrumental bed, long before the vocal even kicks in. Quietest of all, is the acoustic intro to "End of This Love Song," which resembles some of Led Zeppelin's more acoustic moments.
One called "Stranger in Love," rolls to a bit of a boogie groove. This is a nice change of pace, especially when compared to much of the more standard hard rock grooves that precede it. This one especially features West's slightly funky, slightly bluesy bass playing. West then kicks off the next song, "Alligator Breath." Not only is this a great song title, but it's also a fantastic groove. (I've never smelled an alligator's breath, nor would I ever want to get close enough to whiff it. One can safely assume it stinks to high heaven. After all, eating all that raw meat, big teeth (never brushed) and no visits to the dentist guarantee a stench no mouthwash can alleviate). Speaking of bass, "You're So Bad" kicks off with a kind of bass vs. electric guitar battle, before the vocal enters. Although different musically, the vocal on this one sounds like Jefferson Airplane. Jefferson Airplane may not even be an unintentional influence, but fans of that band will likely be drawn to this song's similarity to that band. West's bass playing is also front and center on "Star Gazer," a bass-heavy rocker, if ever there was one.
The album closes with "Crosshairs," which is a rollicking, hard rock song. It's loud, messy and beautiful hard rock noise, with an angry, snotty lead vocal to boot. It is a perfect way to end an album. In between, West of Corey experiments with different sounds and styles. However, the last song sets aside all sonic niceties and lets loose with a straight-out hard rock tune.
https://www.facebook.com/WestOfCorey
West of Corey calls this album Slammed, and it's obvious these are the guys doing all the slamming here.
-Dan MacIntosh