American Pleasure Dome — although from Minnesota — nevertheless has a name that sounds like the Americanization of a Frankie Goes To Hollywood album title. The act's self-titled album is comprised of relatively straightforward rock & roll. Maybe this is due to the Midwestern musical values instilled in 'em. The track (among this strong album's twelve selections) that stands out most is one titled "Cape May Rain." It's built upon a warm, loafing, gentle groove. Its lyric is filled with specific details (always the best kind of song details) about changing circumstances in a relationship. Lead vocalist Hans Shumacher sings these words with sincere feeling and empathy.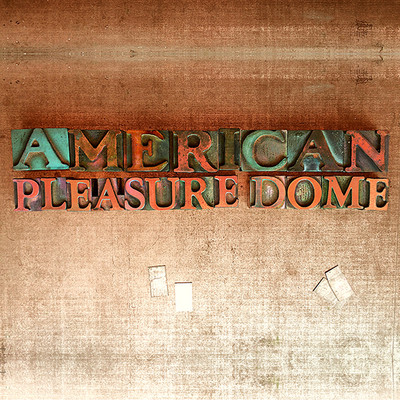 The track also includes some truly lovely harmony vocals, as well as a perfectly appropriate electric guitar solo. The composition is an especially good slice of life piece. As Shumacher is singing it, the listener can easily place him or herself in his shoes. One feels almost like a fly on the wall, watching the scene unfold. This is quite the achievement. It's difficult enough for movie directors to set scenes – and they have benefit of both visual and sound. In American Pleasure Dome's circumstance, however, the act has music alone – and fewer than four minutes, at that – to create a lasting, impactful mood imprint.
STREAM: (bandcamp) – https://americanpleasuredome.bandcamp.com/releases
The group takes on Minnesotan behavior with "Minnesota Goodbye." This moody piece suggests the group has a kind of love/hate relationship with its home state. Curiously, though, the act counts The Cars, Guided By Voices and the Pixies as musical influences. This is not meant to be a put-down, but American Pleasure Dome is likely not as nearly edgy as they'd like to believe. The Cars could be cold and metallic, while one can't say the same of American Pleasure Dome. Guided By Voices, well, are oftentimes just plain weird. This act, instead, never comes off as an oddball, as Guided By Voices, oftentimes can. Lastly, Black Francis (of the Pixies) can get nearly insanely angry and shouty in some of his band's songs, and Shumacher is – and maybe this is the Midwestern in him coming out again – it far too polite for any of that. "Saint Grumpy," in fact, rolls gently, much like a sweet country music tune.
While nothing on this album rises to the greatness of "Cape May Rain," everything on it is strong and heartfelt. There's a sincerity to this music that may also be a Minnesota thing. The group is, at times, a lot like Minnesotans Husker Du and the Replacements. The band is like these two greats, of course, had this iconic pair hadn't ever discovered punk rock. These songs feature a subtle alternative rock feel, but they do not have new wave music's choppiness or punk rock's vitriol. These songs are gentle and sometimes hurt, the way Gin Blossoms songs many times are.
https://www.facebook.com/pages/American-Pleasure-Dome/407910442599515
It's heartening to hear how bands are still making humanistic music, like the kind created by American Pleasure Dome. Don't be put off by the conceivably science fiction or daft British band related moniker. These are songs created – not by robotic studio nerds – by truly real humans, which explore familiar human emotions. Welcome to the (American) Pleasure Dome. I think you'll want to stay awhile.
-Dan MacIntosh