The old joke goes, 'I like both kinds of music: country and western.' Once upon a time, you didn't see 'country' when it wasn't immediately followed by the word 'western.' That's because country music was all about the west. In other words, these were cowboy songs about the cowboy lifestyle. As Ken Burns' wonderful documentary Country details, however, country music has come to encompass so much more than just that. However, Dave Munsick's The Songteller album hearkens back to that time were country western music a much bigger deal.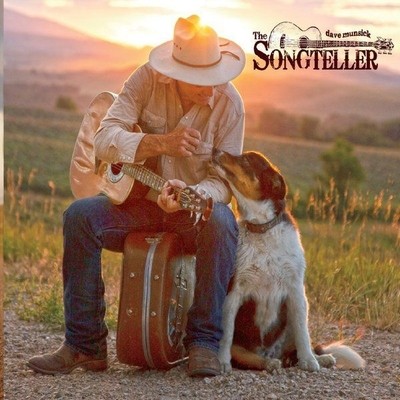 Munsick is not merely a musical historian, even though he's developed educational learning module tools for teaching western history. He's also a fiddle player who has either opened for, or played with such artists as Lyle Lovett, Chris LeDoux and Ian Tyson. In fact, Tyson is quoted as calling him "a damned fine fiddle player" on Munsick's website.
Audio & Info – https://thesongteller.hearnow.com/
The Songteller is, to build upon Tyson's quote, a damned fine album. If you love Riders in the Sky, the quartet that revives and keeps western music alive, and George Strait's understated vocal style, you'll almost certainly dig this project. Many of these songs speak to the cowboy way of life, and sound like songs you might hear during a Gene Autry movie. Nevertheless, "Tell Me a Lie" rolls along like a sad honky-tonk lament. It features twangy electric guitar and Munsick's sorrowful singing. "These Old Boots," however, is far happier. It hot steps to a western swing groove, complete with snappy acoustic piano. It also includes really nice steel guitar. The song's lyric smartly speculates on the tale that might be told, if cowboy boots could actually tell a story. "Staying with the Land," tells the life story of a man that loves the country life, even though – as the lyric suggests – life might be easier in town. This one includes a propulsive acoustic guitar groove, nicely augmented by mandolin. The narrator of the song regrets his own choice of leaving the land, while all the will praising one individual that stuck with it. This is no urban cowboy song, referencing a country trend from a while back, but about a real-life cowboy tune.
The album's last song, "Trouble," is an acoustic guitar-only backed song about ever-present problems, that never seems to completely leave our side. One can hear what sounds like an engineer talking through the recording process, making the listener feel like a fly on the wall in the studio. Its meant to sound like we've been allowed to be privy to the song's first take. In fact, it may actually be the song's first run-through. Nevertheless, the song is a straightforwardly honest look at the troubles in life.
Western music was so popular once upon a time, and is still treasured among the genre's aficionados, because it's also so good. It's as natural and honest as the country life itself, which is why it holds such appeal to those that don't necessarily buy into all the latest country music trends. Dave Munsick's The Songteller is a fine addition to this style's tradition. Munsick is, indeed, a song teller, and this album is filled with plenty of songs well worth the telling.
https://www.facebook.com/dave.munsick
-Dan MacIntosh