There has never been a band like the Manic Street Preachers. There probably never will be again. The Welsh rock legends exploded onto a scene full of acid-house and grunge during the early 1990s, covered in spray-paint and eyeliner, and singing about communism in a country that was in the grip of Margaret Thatcher's right-wing rule. The bass player, Nicky Wire, couldn't really play, and one of the two guitarists mimed his parts on stage because he literally couldn't play at all. Richey Edwards was there to write lyrics, and look pretty. James Dean Bradfield, on lead guitar and vocals, somehow held the whole thing together with the assistance of his cousin Sean Moore on drums. It shouldn't have worked. For a long time, it didn't.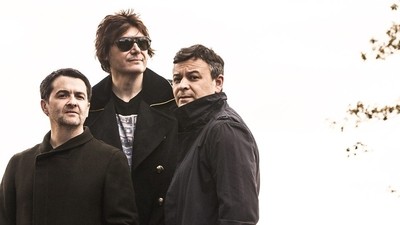 Before they signed with Sony, the young Manics had spoken of having one desire; they wanted to release one huge album, sell millions of copies, and then split up in a haze of scandal and adulation so they could sit back and watch the socialist revolution that would surely follow. According to their frequent media soundbites, people would listen to the album and then go outside to burn down banks. It didn't happen that way.
The first Manics album did sell, but not in huge numbers. They stuck at it and made a second album, and that fared even worse. Undeterred, they carried on, and have now been carrying on for almost thirty years. Their most recent album, 'Resistance is Futile,' was released in 2018. Between then and now, they released one of the darkest and most artistically wondrous albums in the history of British rock music – 'The Holy Bible,' which came out in 1994. A celebration of that album is now headed to British cinemas for a limited release.
Richey's Grand Opus
It's hard to imagine any other band releasing an album as raw, poetic, and brutal as 'the Holy Bible.' From the full and frank exploration of ego in 'Faster,' to the first-person discussion of anorexia in '4st 7lb,' the album takes the human condition and holds it up to a mirror, forcing it to stare at its own dirty, distorted reflection. Between the introspection, there are also musings on the nature of the Second World War in 'The Intense Humming of Evil,' and the nature of crime and punishment in 'Archives of Pain.' Delivered with rasping vocal phrasing, an expanded vocabulary, references that sent listeners looking for history books, and haunting distorted guitars, it was a record that was unlike anything before or since.
The sound and style of the album can be attributed entirely to one Richey James Edwards. His usual lyrical partner Nicky Wire was taking some time out from the band after having his first child, and so Edwards was left to set the tone. Having recently spent time in a rehab facility for alcohol, self-abuse, and mental health issues, Edwards was in a raw state. The lyrics of the tracks sound more like poetry than songs. They're fiercely personal and unrelentingly honest. They were also a long goodbye.
After the album was released, and before the Manics started a tour of the USA, Edwards went missing. His car would later be found parked next to a notorious suicide spot, and he was never seen again. Alleged sightings of the missing musician are still reported to this day, but there's been no evidence that Edwards has been alive since the day of his disappearance. 'The Holy Bible' took everything that Edwards had left in his beautiful and tortured mind, and all signs suggest that he exited the world once he'd completed it.
Back To The Present
Fast forward in time twenty years, and the remaining members of the Manic Street Preachers went on a 20th-anniversary tour for the album in 2014, playing every track from it live, and in order, from start to finish. This wasn't new ground for the Manics. They'd previously done a 20th-anniversary tour for 'Generation Terrorists,' their first album. A year later, they would repeat the trick again for the following album 'Everything Must Go.' Touring old albums might sound like money-grabbing and opportunism, and in all honesty, it might be.
The Manics have, in their own words, always been 'the band that likes to say yes.' In their early days, they were huge fans of Guns n' Roses. Aside from being a legendary rock band, Guns n' Roses have always been a massive money making enterprise. They've merchandised to the point where they even have their own mobile slots game. There may not be a mobile slots game based on the Manic Street Preachers, but only because nobody's asked them to create one. If they did, we can almost guarantee that it would be the most-played casino games in their native Wales, at the very least. The Manics are a band of contradictions. They reject capitalism, but they'll make money out of their music any way they know-how.
It's that 2014 tour which is the subject of the new movie, which is being released under the title 'Be Pure. Be Vigilant Behave.' The movie promises a backstage look at the band in rehearsals for the tour, including the emotional process of re-familiarizing themselves with Richey's work twenty years down the line from his departure. There's also footage of every song, and exclusive coverage of the last night of the tour, which ended at Cardiff Castle in their native Wales. For Manics fans, it's likely to be an experience that can't be missed.
If you want to see the movie for yourself, you'll find it being screened throughout November at most independent UK cinemas throughout November, after which it will inevitably be released as a DVD and Blu-ray. Perhaps it is possible to teach these old dogs new tricks after all, though – all the profits from the screenings of the movie are to be donated to charity. There may be another way for them to make money on the horizon, though – at recent interviews to promote the release of the film, the band has indicated that they're currently working on a new album.
It's been almost thirty years since the Manic Street Preachers promised to split up and leave rock and roll for good, but we think we speak for most fans of music when we say we're glad they didn't.