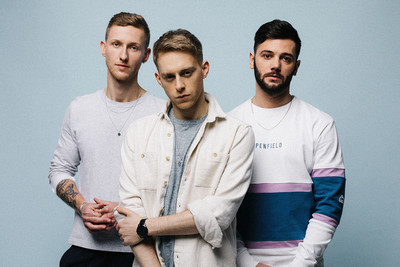 Formed by frontman Josh Carruthers, aka JC, in the summer of 2015, Flawes bolted from the blocks to the radio with an explosive start to their career. JC and drummer Josh Hussey, aka Huss, were childhood friends from Huddersfield who'd spent their teen years in different bands before (separately) moving to London. JC spent two years touring the world with Ella Eyre, who was so impressed by his songs, she booked JC as a support act. The catch? He didn't have a band, had only completed a handful of tracks, and the tour was in three months. A chance meeting with Huss set the wheels in motion, and an introduction to Twickenham-born guitarist Freddie Edwards sealed the deal. One rehearsal later, Flawes were a band.
Flawes saw a quick rise: BBC Introducing made their lead track, "Don't Wait For Me," Record of the Week on Radio 1, and the song reached No.8 on Spotify's viral chart and was chosen to soundtrack trailers for the hit US TV series Lie To Me. The next two years were a blur of shows, songwriting, airports, festival appearances – with more music to come.
The405 has praised their "glitchy synths with a giant surging pop chorus and raw emotional density," BBC Introducing called their debut EP "Intriguing, expansive, and fluid," and Notion Mag prompted readers to "witness the start of something special." Four years into their journey, Flawes are only going up from here.
The latest release from Flawes is "Ghost Town," which features Philadelphia alternative-pop singer ROZES. Set in a blue, smoke-filled room, the video opens with JC holding a ring in his hand. As he and ROZES write in journals and flip through scrapbooks of old memories, they sing of a romance that's grown distant. In separate rooms, and sometimes together – but still, far apart – both wonder how they can get out of a love that's grown cold. Directed by Dan Centrone, the video is a haunting reminder that even when someone is close, our connection can feel worlds apart.