2019 has been a banner year for experimentalists like the duo known as Streaking in Tongues, and you needn't do much more than listen to their new record Oh My Darlin' to understand why. In songs like "Our Love (Couldn't Outrun a Train)" and "Wait Wait Wait Wait Wait for Me," Streaking in Tongues reestablish themselves as melodic marksmen capable of finding something glittery in even the grimmest of sonic environments. Other tracks like "I'm Gonna Love the Hell out of You" and "Sure as Heaven" give us the classic formula first introduced to us in albums like the immaculate Life Support while bravely moving into the future of lo-fi folk music on the whim of a steady beat.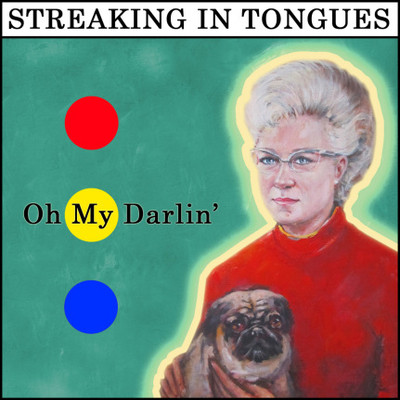 URL: http://www.streakingintongues.com/
You can sense the emotion in pretty much every element of the multitier "Nothing Quite Like It in the World" and its polar opposite in "My Single Wife," and there's no room for debate as to whether or not the feeling in everything from the words to the instrumental melodies (in the case of "Nothing Quite Like It in the World") is real and not the product of some vapid artificiality. That's a real commodity in 2019, as sad as it is to admit.
"Inside out and on My Ass," "We're Still Gonna Be All Right" and "A Blessing I Can't Earn" are deceptively low-fidelity, considering that beneath their layer of DIY grit they're actually very decadent and richly textured in an almost neo-classical sense. Streaking in Tongues are setting a fine example for other acts of an experimental persuasion in Oh My Darlin' based around a concept that can never be emphasized enough to their contemporaries, old and young alike; when it comes to transforming soothing, clean-cut jams into something that the average music buff can enjoy, it's a lot better to keep it simple than it is to run the risk of overindulging.
On the lyrical end of things, "Fear of Limbo," "Irrational Blues" and "Screw Up" have what are probably some of the strongest verses to be released on the left side of the dial all year long. The first time I heard these tracks, I was affected; the tenth time I heard these tracks, I was affected, and I can only imagine that after another ten spins, I'll still be enamored with the very cadence of the words in each of these three incredibly inspired compositions. If anyone was questioning this pair's skills as lyricists before now, they're going to be effectively shut down after this gets into regular rotation on college radio stations around the country.
CD BABY: https://store.cdbaby.com/cd/streakingintongues14
I came into my review of Oh My Darlin' with a lot of high hopes for the content that I would hear, but I can say that I am very pleased with everything that it's sporting. There are a few rough edges that will likely deter certain audiences from falling head over heels in love with its experimental nature, but make no mistakes about it – from where I sit, Streaking in Tongues' new record is one of the best of 2019. Five stars, without a doubt.
Gwen Waggoner