This new EP by singer/songwriter Emme Lentino is dedicated to the summer months and she adds, "It's a nostalgic musical journey and I wrote it so that folks traveling on the road this summer would enjoy driving to these tunes!" 'Summer This, Summer That' is one HOT EP that is simply on fire, so the title is fitting BUT I personally feel this record can be enjoyed any time of the year. With Autumn upon us, 'Summer This, Summer That' can also serve as a nice soundtrack to take in all of the wonderful Fall foliage and nature around us. I feel this EP can help in warming our souls and calming our senses because 'Summer This, Summer That' has that kind of effect.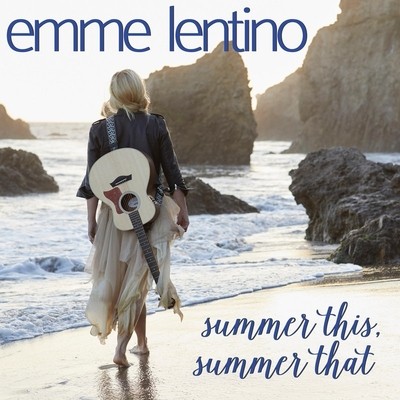 There are four phenomenal songs on this record that all have heart and all are very personal to Emme Lentino. This New Zealand-based artist has come up with four recordings that can relate to many and catch on like wild fire. The EP starts up with a track called "Very Thought of You" and immediately the listener will be subjected to a bouncy beat that is infectious. Emme gets your attention right away as you can sense the pure joy in her voice on "Very Thought of You". Next we have "Drive All Night" where you won't want to stop listening and will want the song to keep going. Grab the wheel tight, don't let go and "Drive All Night" to the soothing sounds of Emme Lentino. Moving along, "Second Best" is in rotation and let me be the first to say that there is nothing second-class about this tune. Here, Emme is in full control & command on "Second Best" while also supplying a superb melody. 'Summer This, Summer That' ends on a high note with "Shine" where an upbeat & catchy Pop hook instantly rushes over you. The positive energy is illuminating off of Emme Lentino with Big & Bright notes pouring out on "Shine". By the end of this EP, I am confident in saying that Emme Lentino is a shining star and music is her power source.
Be sure to grab a copy of 'Summer This, Summer That' with the links provided below; you won't regret it one bit! Emme Lentino delivered an all-around great performance on this new release where Emme's optimistic spirit will pull you in and capture your imagination. I highly recommend checking out this new EP by Emme Lentino because it's just a fun time filled with feel-good vibes!
https://music.apple.com/us/album/summer-this-summer-that-ep/1471508989
By Jimmy Rae (https://twitter.com/2JRae)