Alonzo is Here! Solid Gold music mixed with a vocal range that will make you and your momma cry, Alonzo is bringing true talent back to the forefront of modern music. Learn more about the man behind the sounds…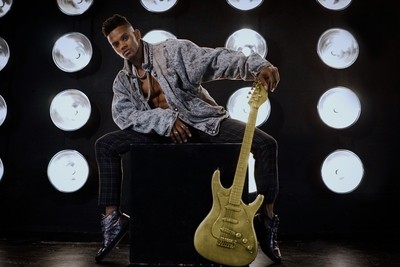 Thanks for your time today Alonzo, we hear new music is on the way.  What can you share with us? 
Wow! First, thank you so much for those kind words in your intro and thank you for taking the time to do this interview. It means so much to me. New Music is definitely on the way! My 2nd single "Save Me from Myself" is available for pre-order and will release on 11/11.
I really need everyone to Pre-Order because the more pre-sales I can get the easier it is for me to chart when the song releases.
DSP LINK: http://itunes.apple.com/album/id1481094075?ls=1&app=itunes
It's no secret that the music biz is tough. What's the biggest problem you've had to overcome so far?
This business is filled with moments of overcoming. I've had some serious let downs but building tenacity and resilience is also a huge reward. You develop strength in all aspects of life and nothing can destroy you.
I'd say one of the things I'm constantly having to overcome is this constant rejection if you don't have a certain number of followers, streams, plays, etc. It's sad we now live in a time where the person with less talent and more followers gets the opportunity before anyone. It also sends a message to other talented people that if they don't have a lot of followers they are not worthy, or of value. It's my goal even when I do have a lot of followers to look out for those people. I'll always be that artist pulling in the opposite direction of this business. This is equally about talent as it is business!
What do you enjoy most about being a musician? 
FREEDOM! I've been fired from or quit every 9-5 Job I've ever had. I don't miss It at all. I've always rejected anything that got in the way of my music. I enjoy being able to express myself and work for myself freely.
If you could change anything about the industry, what would it be?
Kind of spoke about it above. I would remove all numbers from social media! It would force the labels to focus on talent and invest like they use too! IN TALENT.
We complain about music and the business not being the same and THIS IS WHY! The executive's priorities have changed. I'm not saying that everyone with a lot of followers isn't talented because that's not true but if that's a fact then that also means that there are a lot of talented people out there with low followings. THEY DESERVE A CHANCE TOO!
Is writing music therapeutic for you?  And if so, how? 
Writing isn't as therapeutic as performing for me. Depending on my mood I can get anxiety while writing a song. Its only on the stage that I feel completely at peace and get my real therapy.
Tell us a bit about Your Medicine video, the dancing is insanity. 
Ha! Thank you. Your Medicine was my debut single. The music video was my first music video ever. I really wanted that song and video to embody all of me and I think the director MARSHALL KING did an awesome job capturing that. I wanted it to be Rock, Pop, Soul, Sexy, Dance and everything that is me!
Describe your sound in one sentence.
Rock Soul with pop influences that you feel in your heart
Any dream gigs or stages you've always wanted to play?
For many its Madison Square Garden, Coachella, or the Super bowl. Although those are bucket list shows on my list as well. My dream show is the headline the BMO center in my hometown Rockford, IL
Are you planning to tour in support of your new music? 
YES! Working out some tour details for 2020 as we speak. Stay tuned!
Please tell our readers how they can support you on line and be part of your tribe? 
Follow me on Instagram @StoryOfAlonzo! & Subscribe to my website http://IAmAlonzo.com