Honoring the most underrated yet most deserving artists in the bay area and beyond the exciting night was full of surprises and unknowing honors. With Special Guest Appearances by Shaleena smith of all hustle no luck records Dr. Wright of Wright Place TV and hosted by Sandra Risser.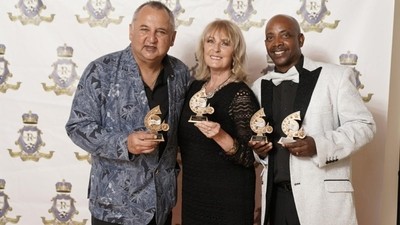 GRM Awards at Temple Beth Hillel in Richmond, CA
801 Park Central St, Richmond, CA 94803
Justin Llamas won the First Award of the night for his lead off single "Party on the out side" and won a record 4 awards. There were nice performances by Carolyne Christine and Gospel Artist Arthur Jae from Sacramento Ca who won two awards one of which was presented by spiritual singer La Vergne Manuel of the Manuel sisters.
Joseph Camilleri won a long over due best actor. Music Duo Studeo came all the way from Australia to perform and they also won two awards one for their song "Perfect place to be" and best music video production for "This time". Eye'z did a surprise performance on the piano to an exciting audience then won social media star of 2019. All though one of the nominees could not attend a speech given by Devon Black was very touching as he accepted the award for him.The night was very positive with very talented artists throughout the program.
GRM Presents was founded at the turn of the century by Devon Black and family founded in the Bay Area
To learn More please visit – http://grmawards.weebly.com/#grmawards
#grmawards #granroyalemusicawards
—
To one who has faith, no explanation is necessary. To one without faith, no explanation is possible. -Thomas Aquinas via GRM Awards