Janine The Machine is looking snatched. Sure, she's been working hard in the gym – but it's not just her fitness levels that are on the come-up. She's headed to new heights with her new workout anthem-celebrating self-love, confidence, and body positivity. And everyone is taking notice.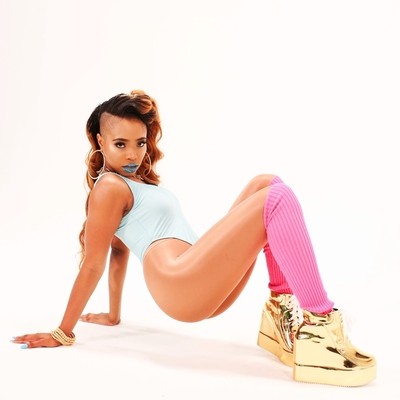 In the gym or the recording studio, Janine The Machine knows all about technique. Infectious melodies, perfectly timed cadences, memorable lyrics, and a signature style: everything that pop stardom requires, she's got it all. So when she tells us that she's working on her snatch, as she does on the hook of her latest single, Janine's not just talking about physical fitness. She's also referring to the work she's put in as an up-and-coming artist positioning herself to rise to the top. On "Snatched," she does it all: she raps, sings, delivers an insanely catchy hook, she teases, she boasts, she captivates and fascinates from start to finish. While "Snatched" builds on the success of her recent tracks, it's also the most irresistible, straightforward pop song she's ever cut. And in case it isn't clear, the song also makes her love for fitness and self-care manifest: she gives a shout-out to yoga and pilates, while promoting body positivity with lines like: "And that scale gets no love / We already know what's up / Forget that number, baby I'm in my zone."
The result? An anthem for hard work and achievement, that provides the soundtrack to whatever grind you happen to be on. And should you want to hit the weight room or get in some cardio, it's hard to imagine a song that'd suit your workout any better.
Naturally, the clip for "Snatched" catches Janine The Machine in the gym. But this is no grubby training center crammed with rusty equipment; no, Janine's fitness center is gleaming white, well-lit, and filled with beautiful women who clearly know their way around a gym floor. They're also dressed in some of the most outrageous and sexy workout gear you'll ever see in a workout: Glitter lips, liquid gold bodysuits, neon spandex, color-coordinated towels and sky-high platforms reminiscent of the Spice Girls. Janine may be sweating, but she never loses her sense of style.