Vicki F has a long musical history dating back to the 70s and early 80s, but she took a break from the music scene for years. Her new EP titled, 'Definite Yes!', is making a loud statement that Vicki F is back and better than ever. This new release proves that Vicki F has not missed a step…or beat and gets a big stamp of approval in my book.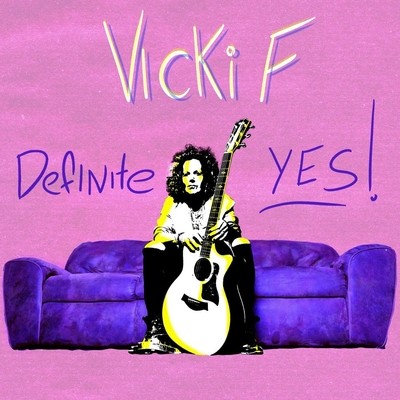 Vicki F was in a popular punk band called Troupe DiCoupe and got to play at the famous CBGB along with other hot punk spots in NYC and Connecticut. The owner of CBGB at the time, Hillel Kristal, even went on record to say that Troupe DiCoupe "were the first band other than the Ramones to go from an audition to a Saturday night slot". Impressive resume for Vicki F and Troupe DiCoupe, but that was then and 'Definite Yes!' is now! Vicki F's influences are: Patti Smith, Lou Reed, Joan Baez, Joni Mitchell just to name a few and those artists and their styles can all be heard on this EP. The punk influence is strong on this entire record and can be heard loud & clear on the opening track, "The Desert". On this single, the listener will sense a feeling of isolation on the part of Vicki F with reoccurring lyrics like "You left me in the desert" and "I don't want to be alone". Vicki F does a terrific job of relaying this feeling of being alone on "The Desert" full of angst. But Vicki F also shows the listener an edgy side and true grit on this song, which I personally thought was a beautiful display of mixed feelings & emotions. Next up on "Tell Me What You Want", Vicki F gives you her spunky character with a little bit of attitude thrown in for fun. On track three, "Everything Is Fine", one will think that not everything is okay with a painful/sad account from Vicki F, but she is letting it all out and persevering in the end. The title track, "Definite Yes", has it all with the drums, guitar playing and vocal performance all coming together to make up one, defining sound. "Definite Yes" gets a thumbs up from me!
DSP – https://open.spotify.com/album/1Br4SRXuibxnZOk3Fdk59s
I feel Vicki F is a determined individual and not to mention a phenomenal artist who lays it all out on the table and doesn't hold back any of her emotions, thoughts or words. With elements of punk, new-wave and art rock, Vicki F has painted a vivid musical portrait with 'Definite Yes!'. Vicki F is one to definitely watch out for moving forward; Hell YES!
By Jimmy Rae/JRae23