Fly $hit Only. That's a code we should all be living by. Easier said than done, but the crew F$O Dinero runs and rhymes with definitely put their money where their mouths are. Dinero's been dropping banger after banger recently, with "Blue Bills" and "Broward" cementing his status as an MC who can make lyrical mastery look strictly off the cuff. He's the hungry new young'n represented by Miami mainstay Slip-N-Slide Records, home of respected heavyweights like Rick Ross, Trick Daddy, and Trina. Dinero's part of a breakout foursome out of Broward County, Miami's more rough and tumble neighbor to the north. F$O Dinero is putting in work getting that grittier Broward sound out there, showing the nation that Miami's all about the glitz, and Broward's all about the hits.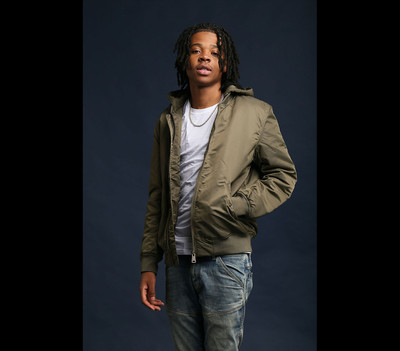 The streets are on notice after F$O Dinero's recent singles, and he goes hard yet again with "Changing Weathers." He's pulled in Haitian/Cuban lyricist, and fellow Broward native Eman Get Dough to fatten up the track. They trade verses with a late-summer chill, and the two have natural, laconic intertwining flows, and can see a hook coming a mile away. That hook glides on a bumping 808 beat, with echoes of a low-key pulsing synth keeping it stealthy in the background. They spit with authority on living life to the fullest, relying on one's self, never settling, and never, ever, getting outplayed. Dinero and Eman themselves are the melodic foundation of the track, projecting O.G.-level confidence and skills — and making it look way too easy.
The two live the dream here, kicking it on the corners one minute, and hanging in swank spots against skyline vistas the next. There's a washed-out, cool breeze, summer' s-never-over vibe to the clip, helped out immensely by their attitude and delivery. The video was directed by Benny Flash, a South Florida visionary behind the camera who's provided the visual aesthetics for rappers like S-N-S labelmate Mike Smiff, among others. He uses line animations, retro-style filters and wipes sparingly and strategically so that each has an impact. The duo constantly jumps locations, keeping the energy high as they blend seamlessly into the Miami streets and rooftop clubs. See, you don't have to be from Miami to run Miami. Fly $hit Only indeed.